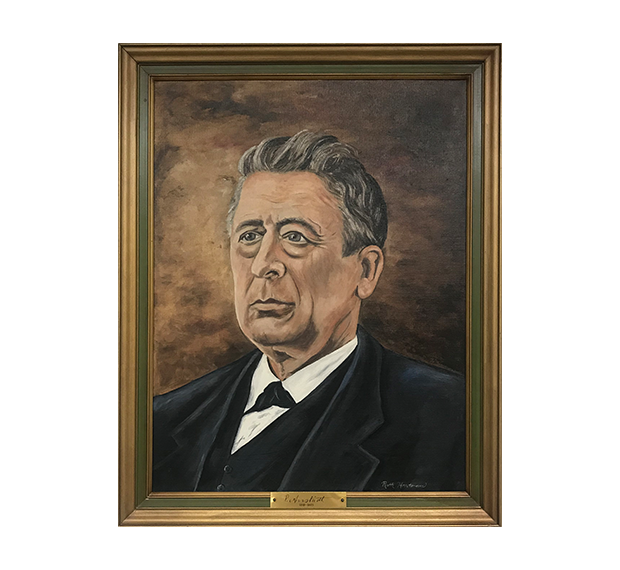 Reverend Peter Anstadt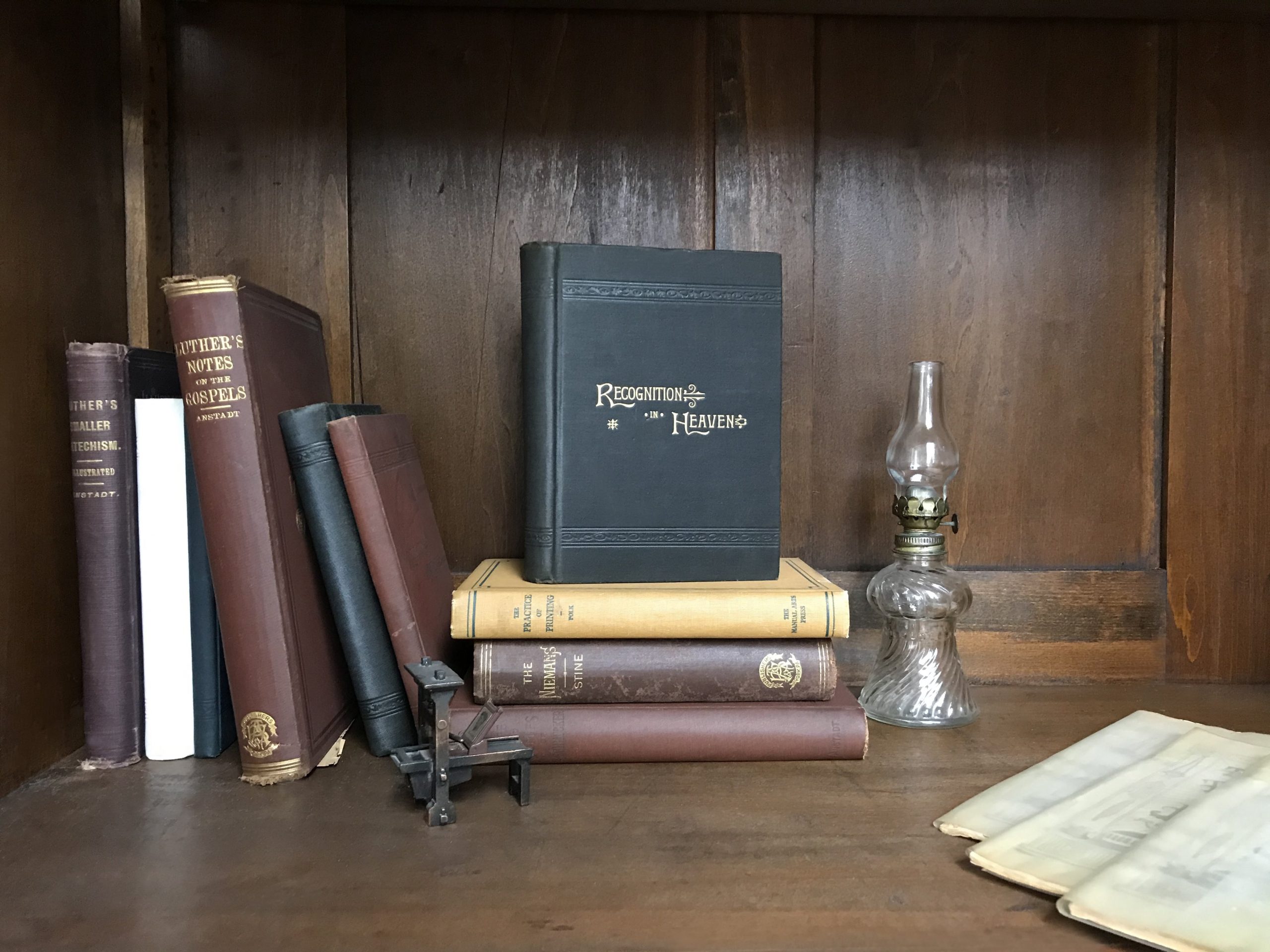 A sampling of books written, published and printed by Reverend Peter Anstadt.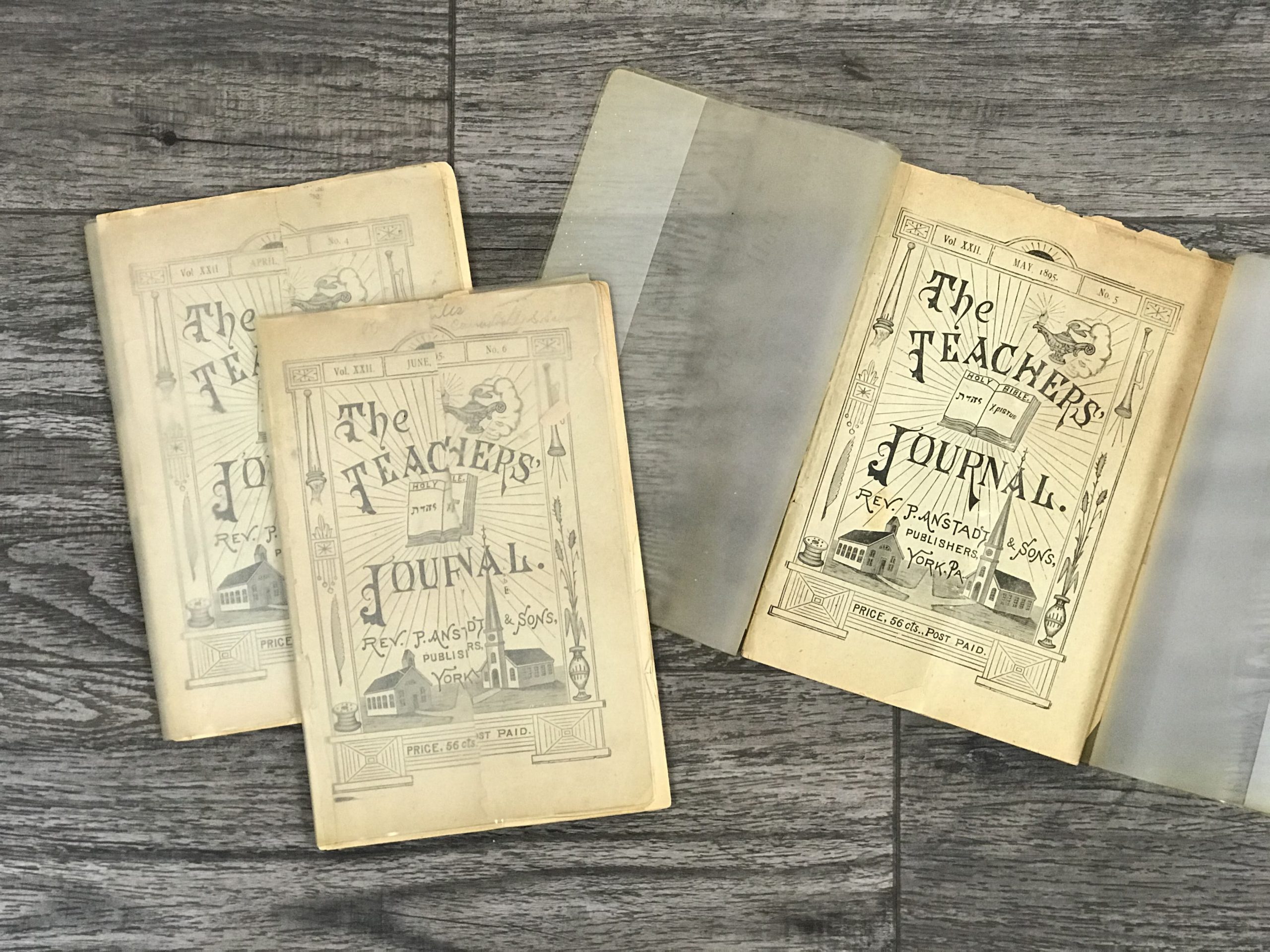 Original Sunday school papers in protective mylar covers.
1878
In 1878, the Reverend Peter Anstadt established P. Anstadt & Sons Publishers and began writing, publishing, and printing church books, Sunday school papers, and supplies. Rev. Anstadt is known as the originator of the now universally used Sunday School Quarterly.
To add historical perspective, this was only two years after the introduction of the telephone and the year before Thomas Edison invented a practical incandescent light!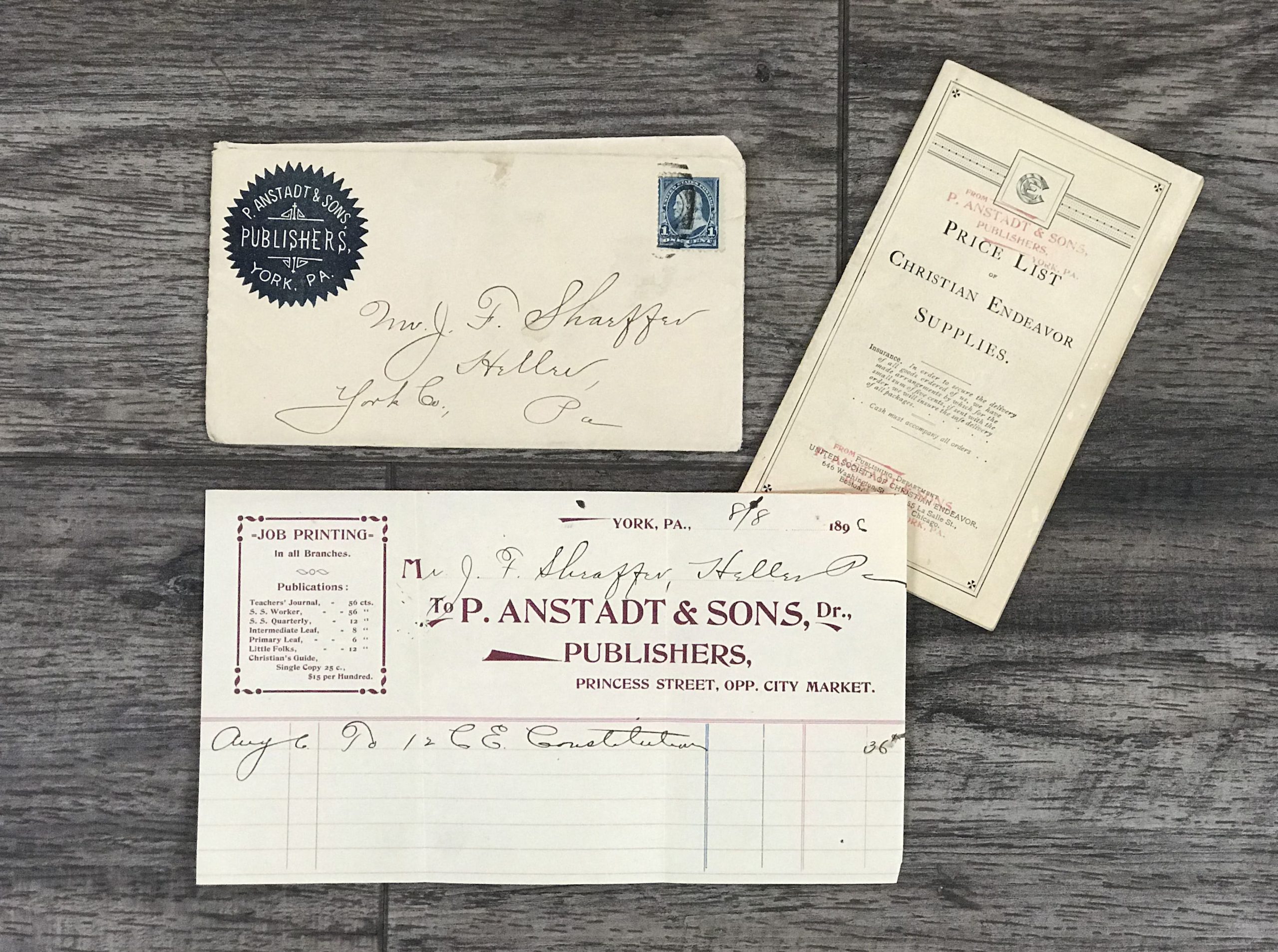 A handwritten invoice and envelope for the Price List of Christian Endeavor Supplies.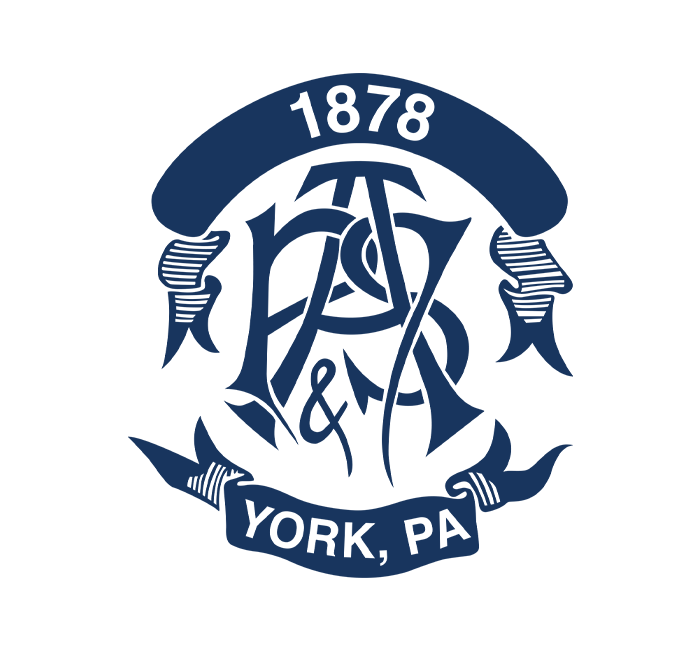 Second iteration of the P. Anstadt & Sons logo.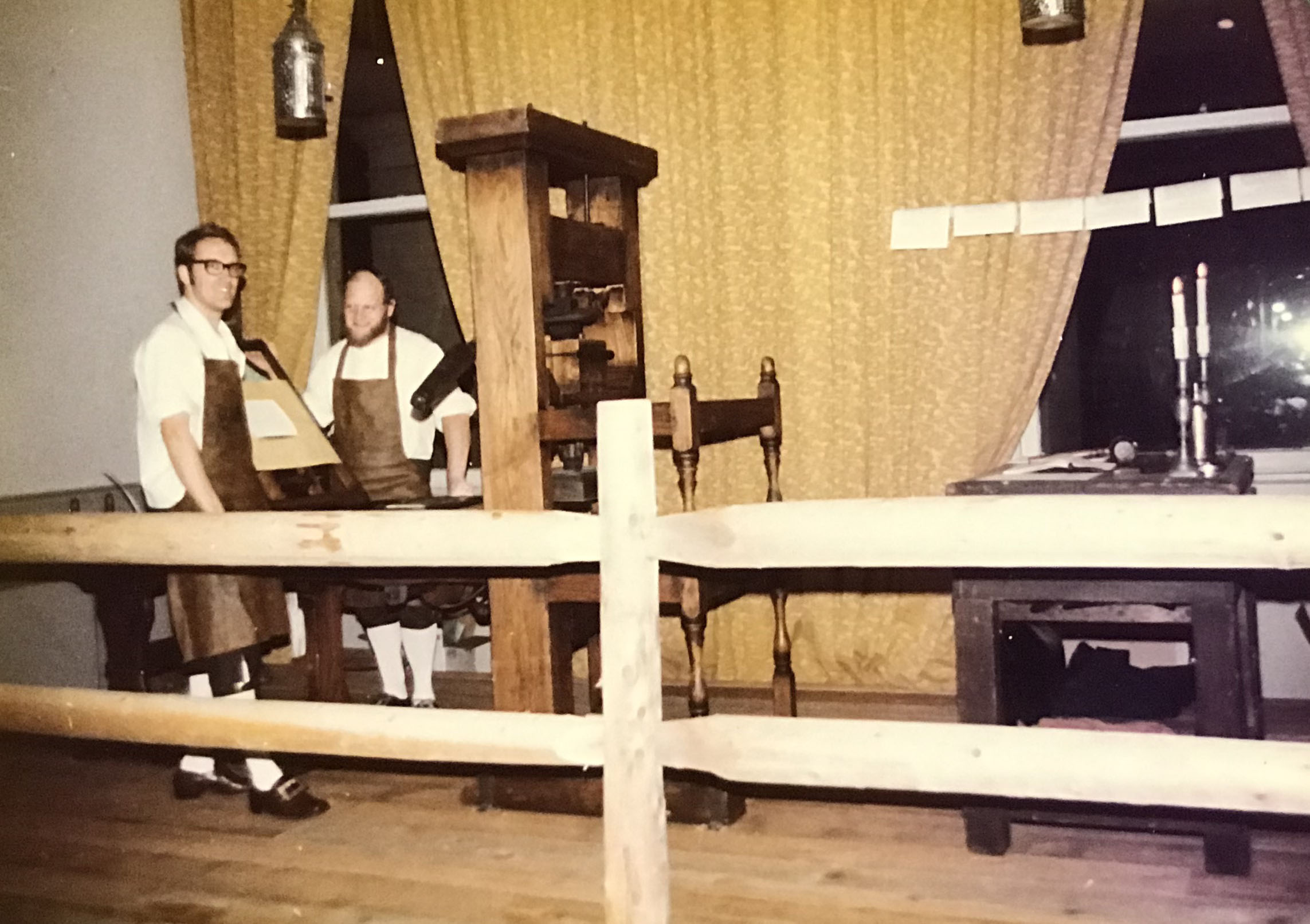 One of our original letterpress machines on display at the Agricultural & Industrial Museum in York, PA.
1882
Four years after founding, P. Anstadt & Sons established full operations at 117 East Princess Street in York, Pennsylvania.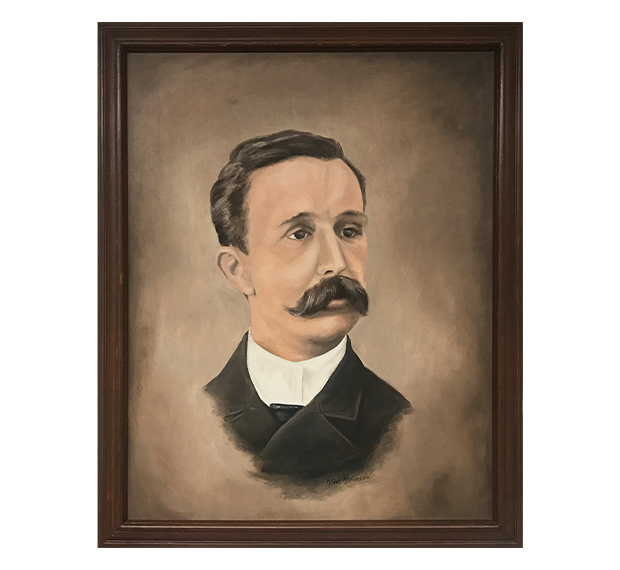 Charles P. Anstadt
1903
As the company grew, Peter's three sons learned the printing business and, in 1903, Charles P. (representing the second generation) took over as president.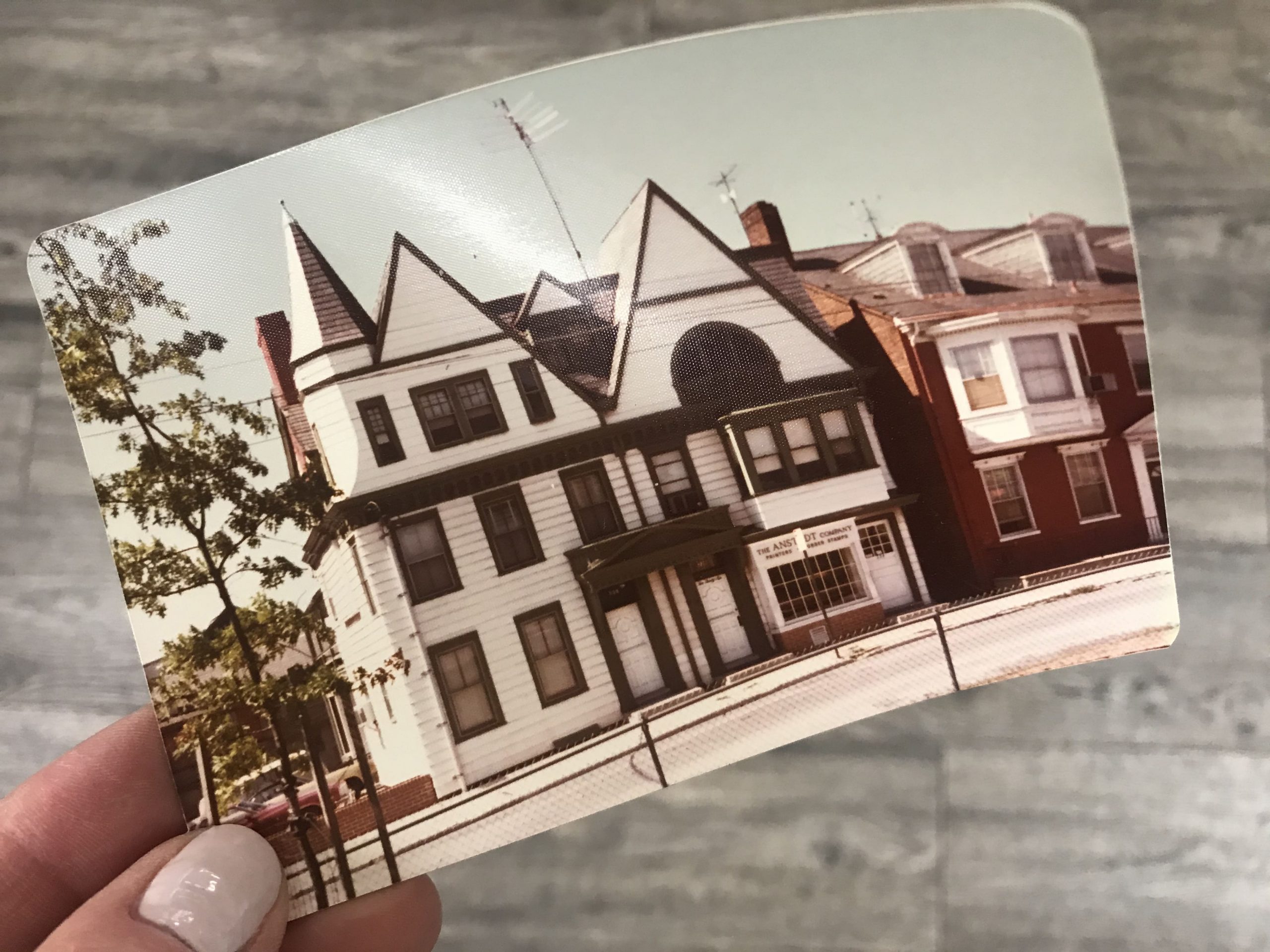 A photo of our 234 South Duke Street location in York, PA.
1922
In 1922, Charles P. purchased Selak & Bros., a rubber stamp manufacturer, and moved operations to 234 South Duke Street, where his son, Charles B. Anstadt, joined the firm.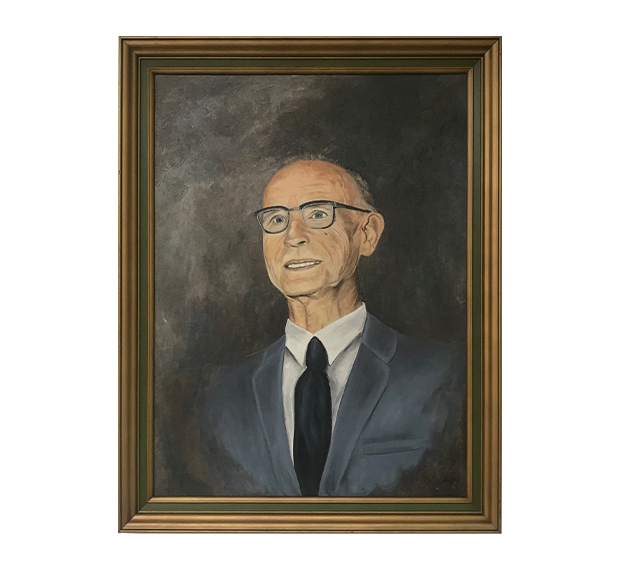 Charles B. Anstadt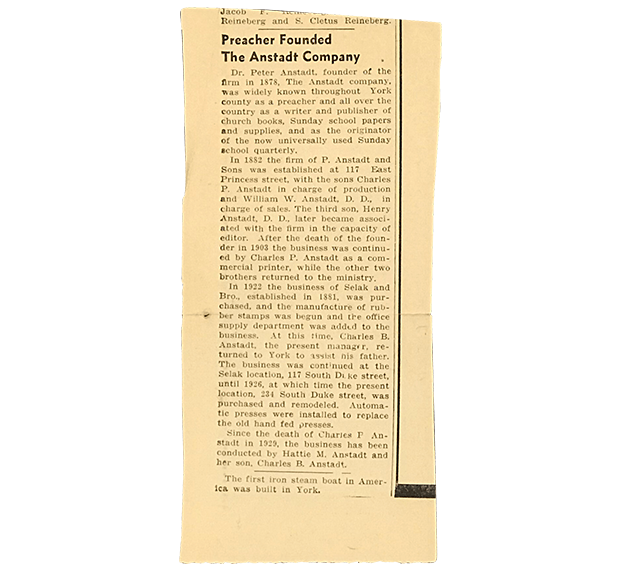 A newspaper article highlighting the transfer of business to Charles B. Anstadt.
1929
The company continued in letterpress printing and rubber stamp manufacturing, and in 1929, following his father's death, management of the firm was taken over by Hattie M. Anstadt and her son Charles B.
As the third-generation leader, Charles B. brought progressive ideas and was quick to incorporate new inventions such as the company's first offset press. With an offset press and expansion of the Duke Street production facility, the company was able to begin producing a wide variety of advertising and marketing pieces.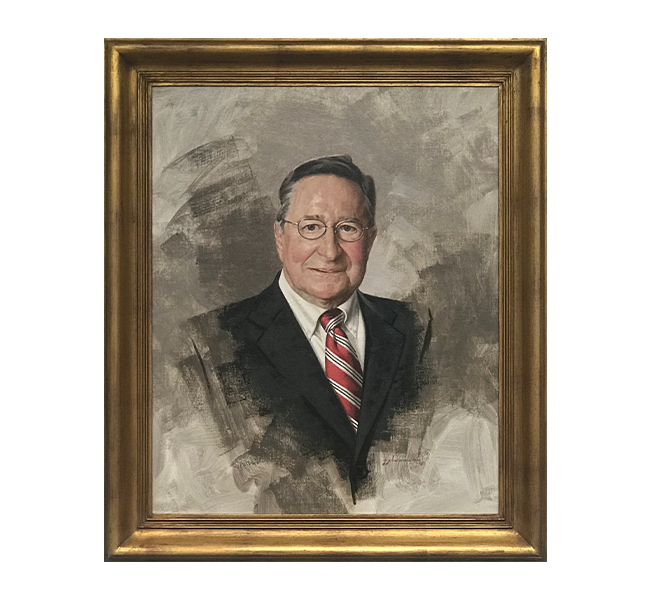 Henry P. Anstadt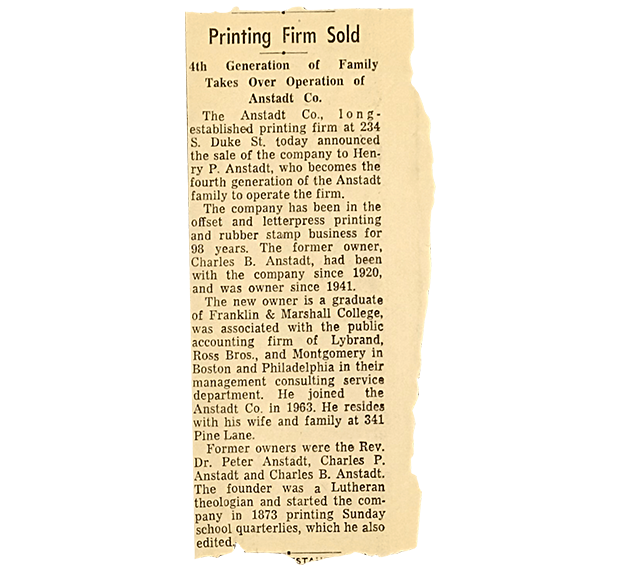 A newspaper announcement highlighting the transfer of ownership to Henry P. Anstadt.
1962
Henry Peter Anstadt took over ownership in 1962 from his father, representing the fourth generation of family running the successful firm. Henry diversified the company's capabilities with foil stamping, embossing, thermography, and four-color process work.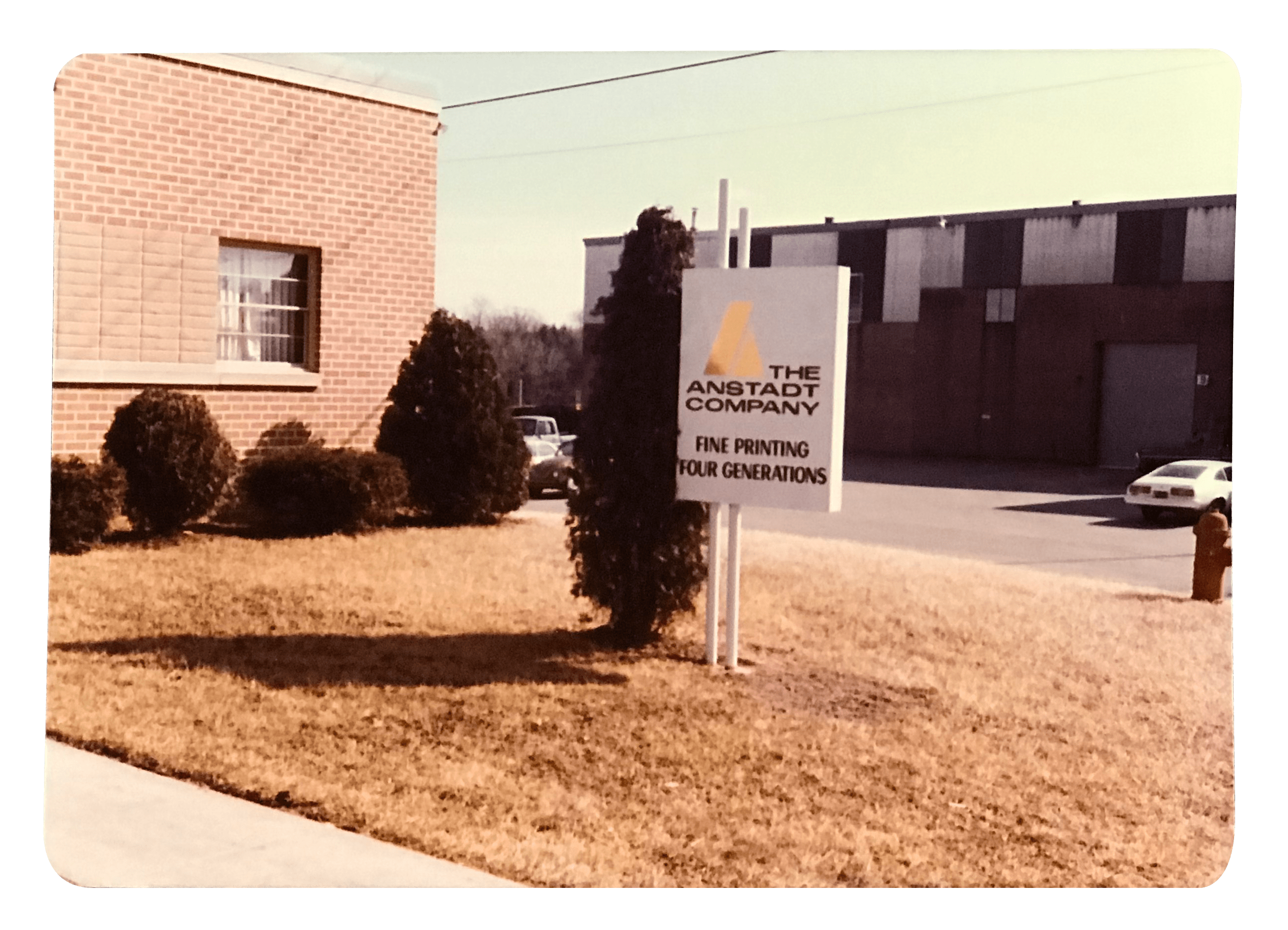 A photo of the outside of our building in Church Road Industrial Park.
1976
The need for additional space prompted a move to the Church Road Industrial Park right off of the I-83 Emigsville Exit.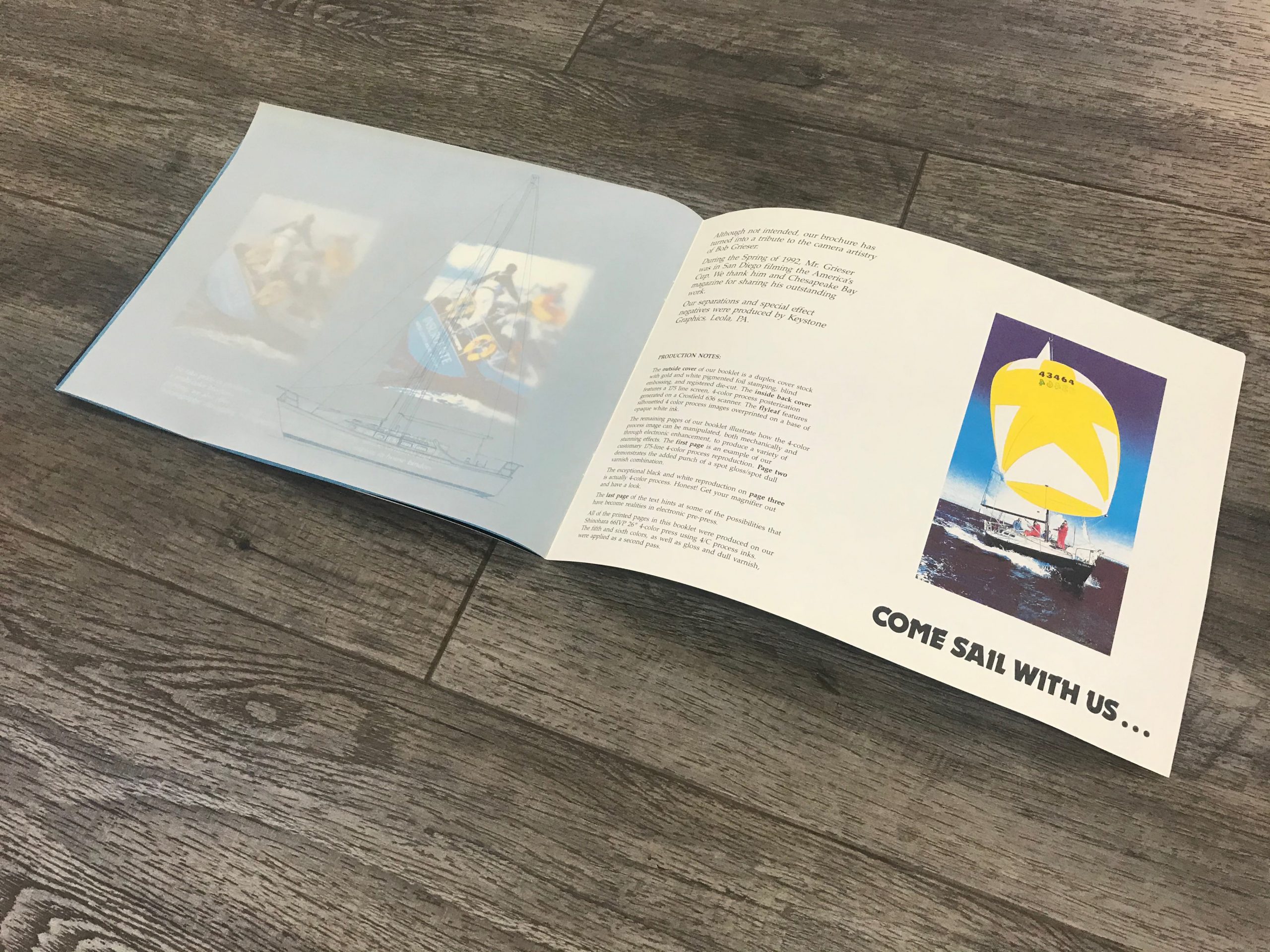 A cutting-edge brochure from 1981 featuring gold foil, textured stock(s) and, at the time, a hard-to-produce, highly saturated, full-bleed black background.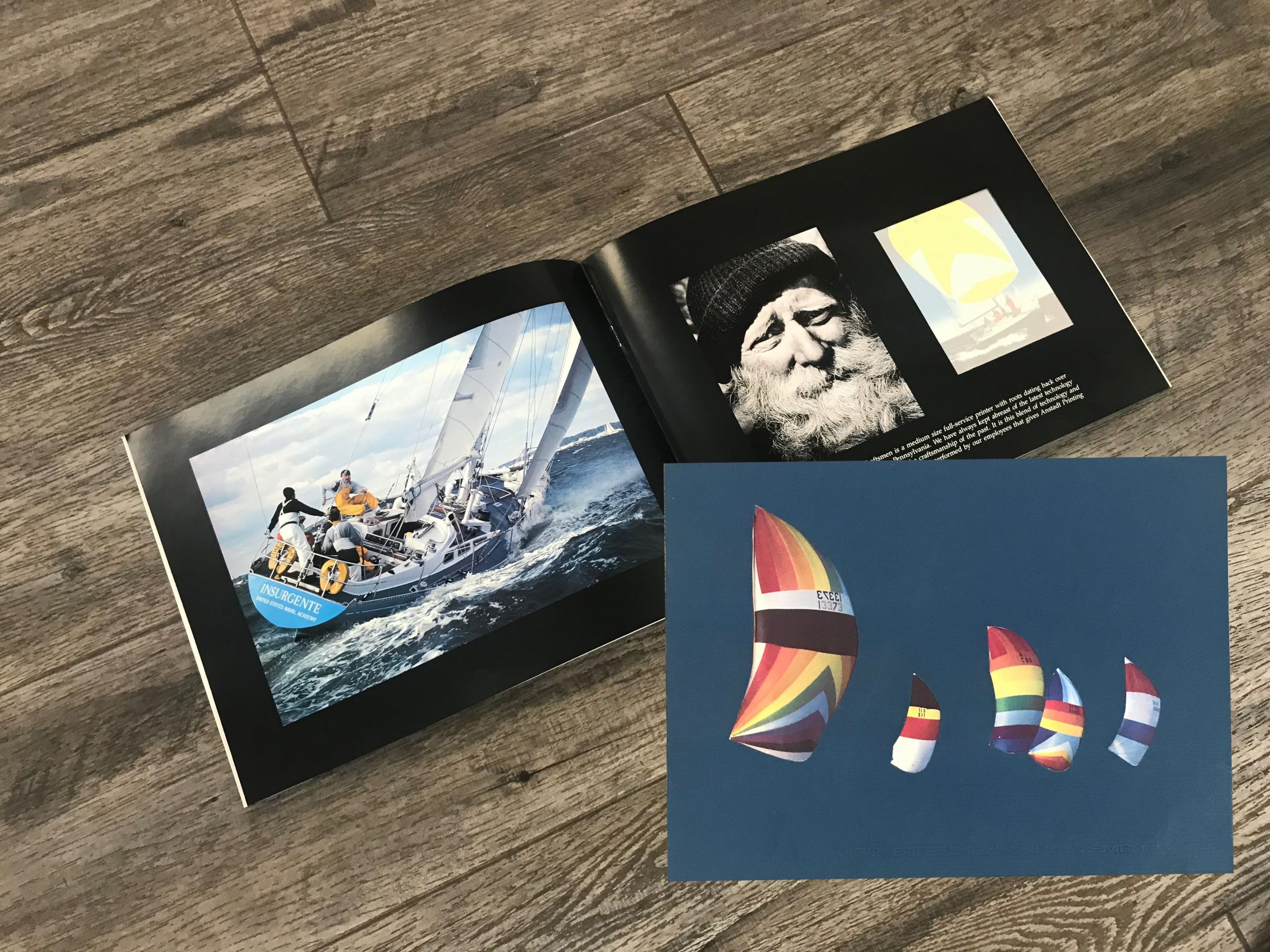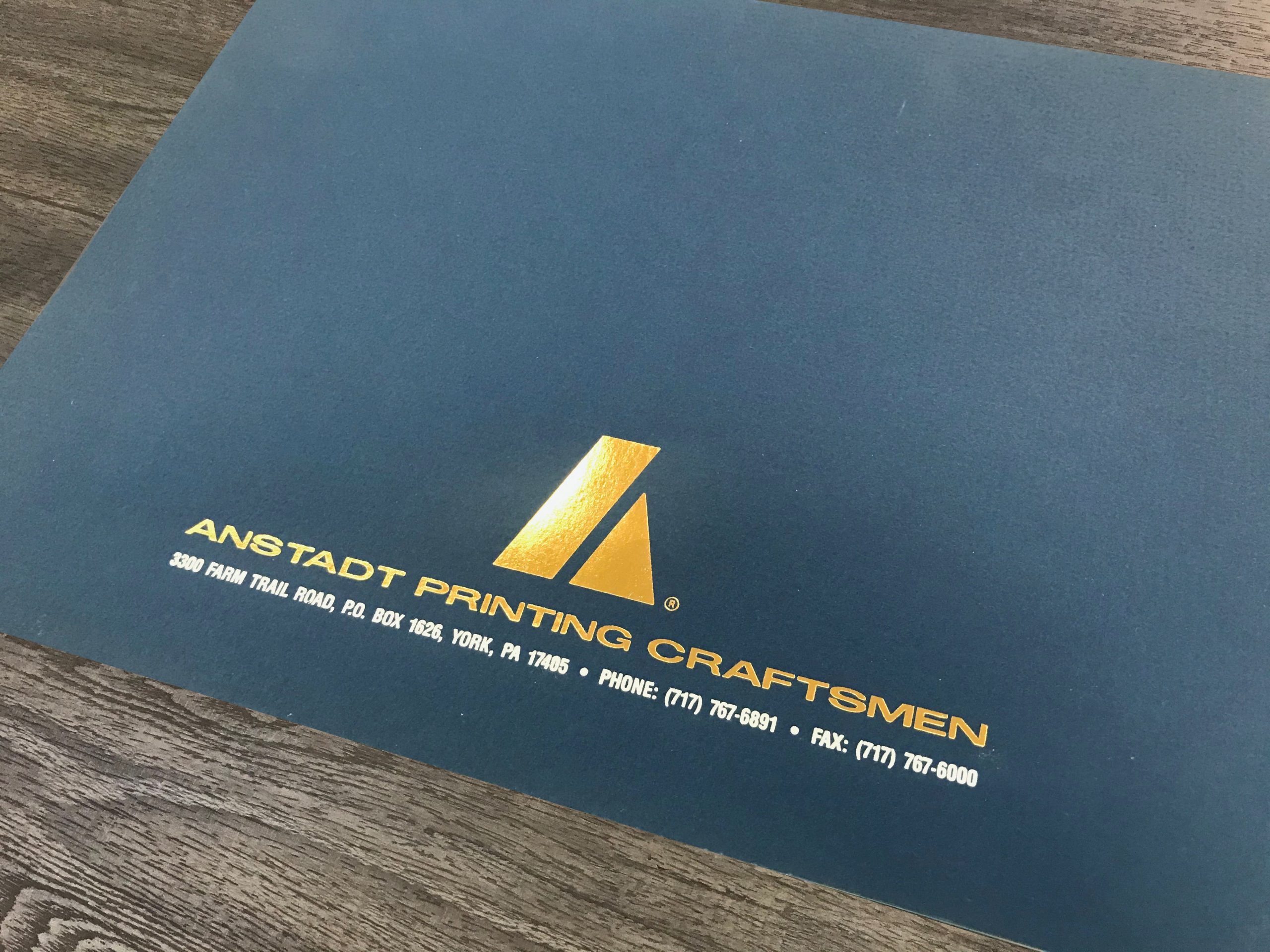 1981
Acquired Printing Plate Craftsmen and renamed the firm Anstadt Printing Craftsmen.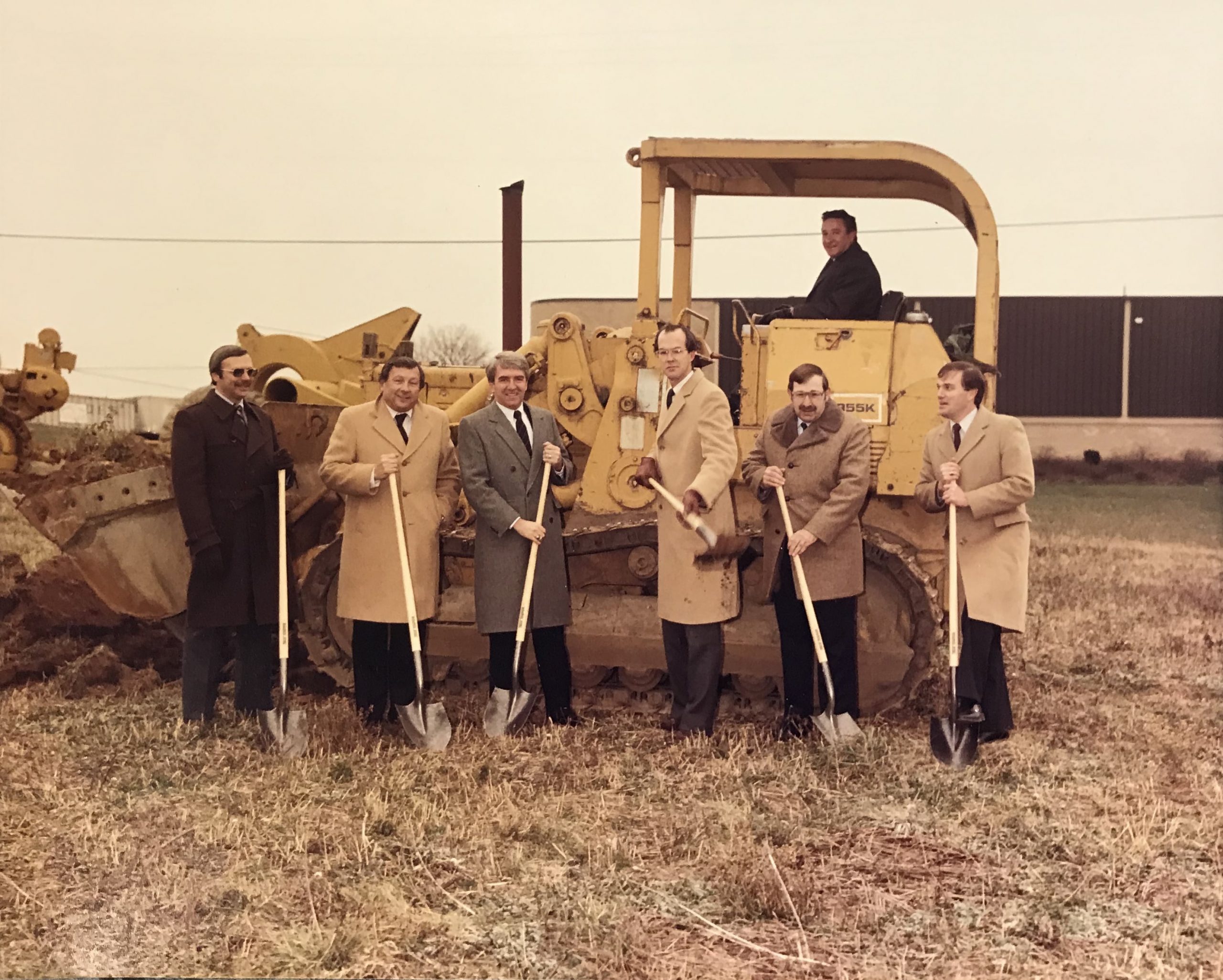 Henry Peter Anstadt and team breaking ground.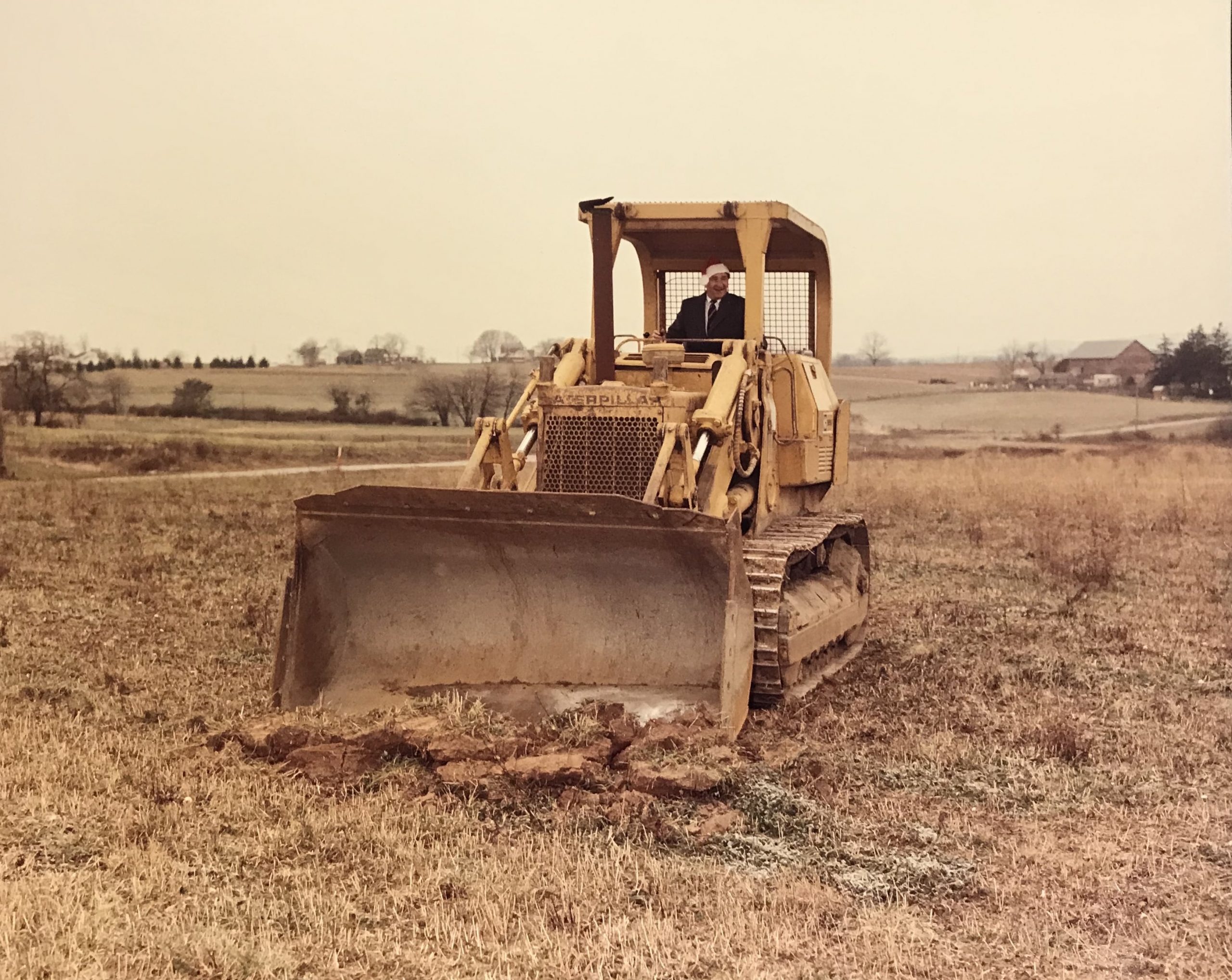 Henry Peter Anstadt
1986
Breaking ground on a custom 20,ooo-square-foot facility at 3300 Farmtrail Road.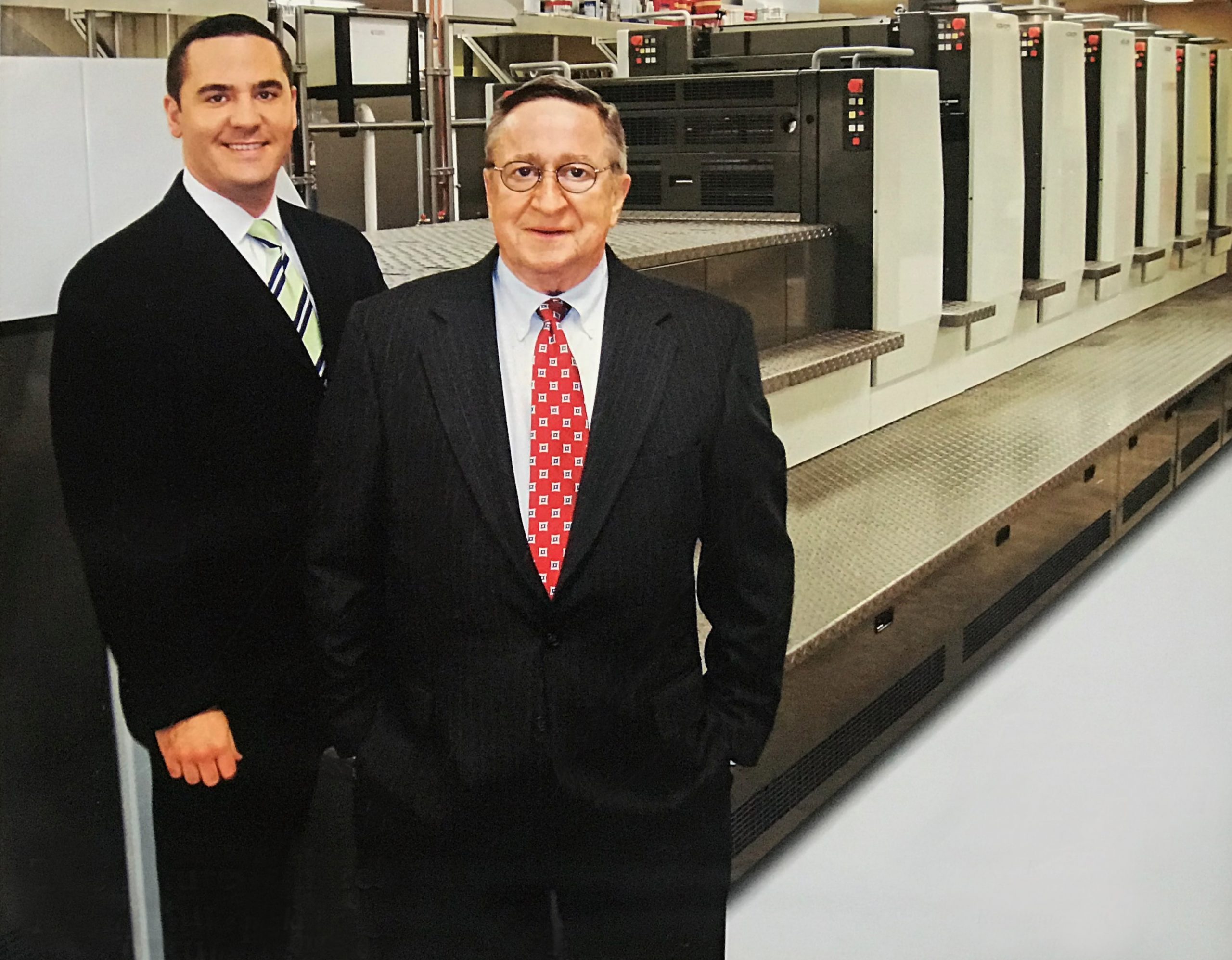 Matt Doran and Henry Peter Anstadt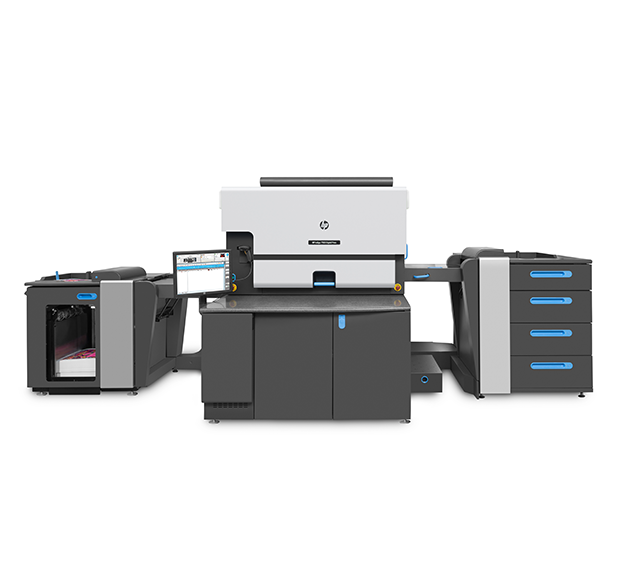 HP Indigo 7900 Digital Press
2006
Matthew R. Doran and his wife Jennifer, the daughter of Henry Peter, are the fifth generation to lead the company. Matt has taken an even broader strategic approach towards the business and has brought forth many new products and marketing services beyond ink on paper. He has invested in the next generation of technology—digital printing—and upgraded to some of the most highly sophisticated printing technologies available in the global market.
With the introduction of our first HP Indigo 7900 digital press, we were able to provide new opportunities to our customers with short run, on-demand print and variable data applications previously not possible with traditional printing capabilities.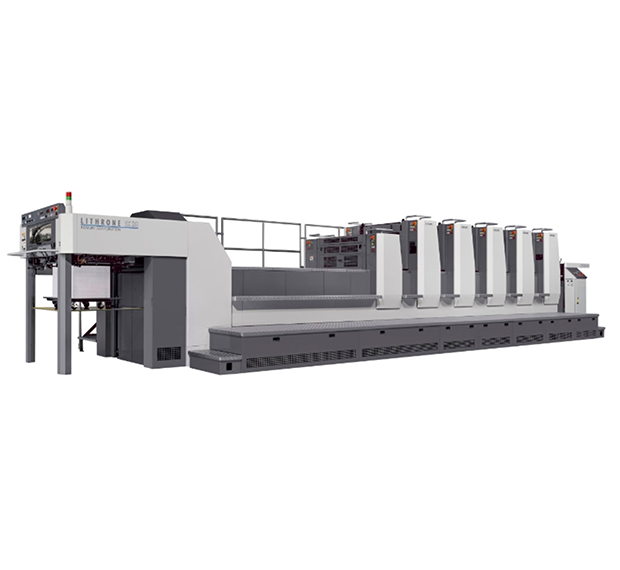 Komori 6-Color Offset Press
2008
Installed our Komori 6-color offset press, which features inline aqueous coating, closed loop color control and fully automated plate changers, running at 16,000 sheets per hour.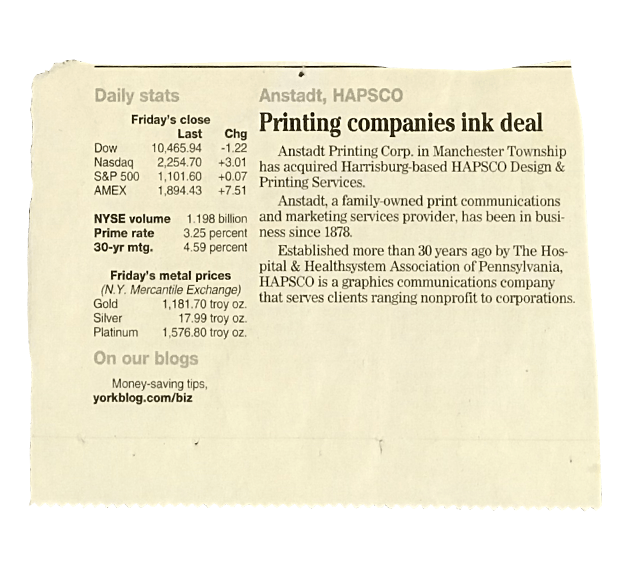 A newspaper clipping announcing the acquisition of HAPSCO Design & Printing Services.
2010
The acquisition of HAPSCO Design & Printing Services, allowed us to offer full-service creative and graphic design services at a time when most other competitors offered only pre-press.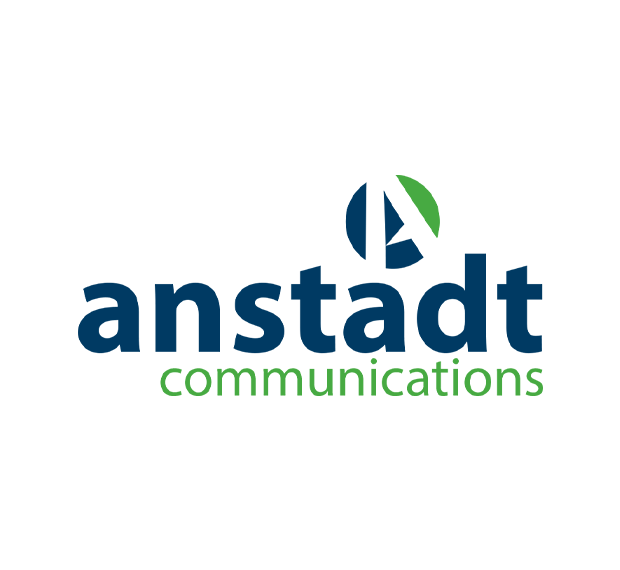 2011 Logo
2011
The Anstadt Company was rebranded to Anstadt Communications following our acquisition of HAPSCO Design & Printing Services to better illustrate our growing portfolio of marketing products and services beyond print alone.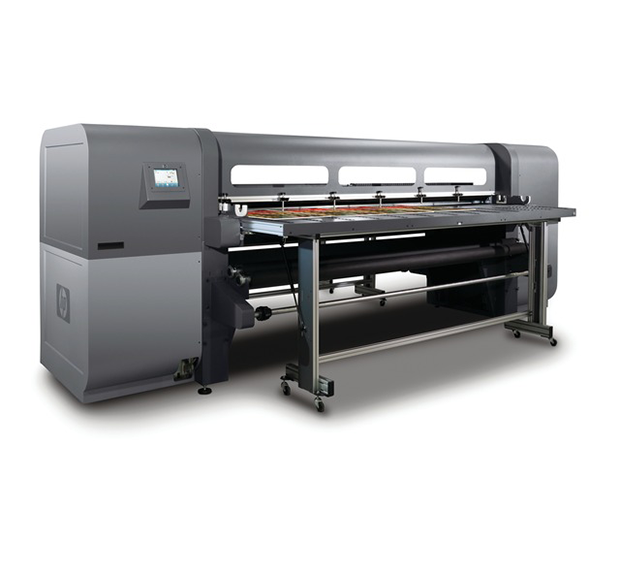 HP FB700
2012
In 2012, we entered into a whole new realm of print capabilities as an early adopter of grand format printing technology in the commercial printing space. The installation of our HP FB700 opened the door to new print applications including signage, displays and point of purchase.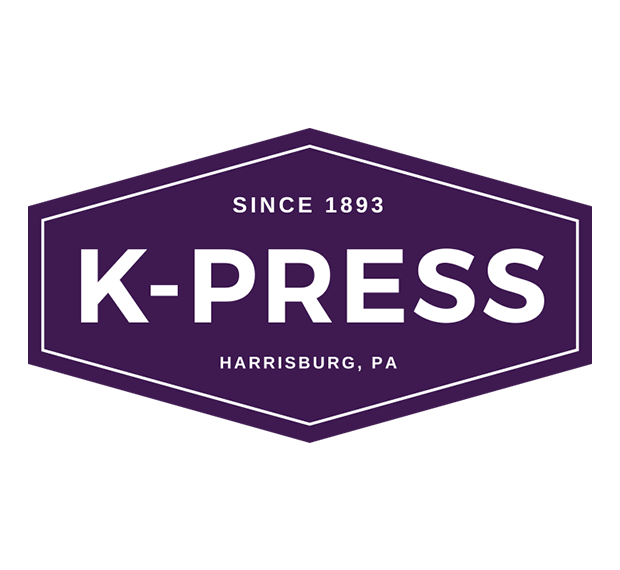 K-Press Logo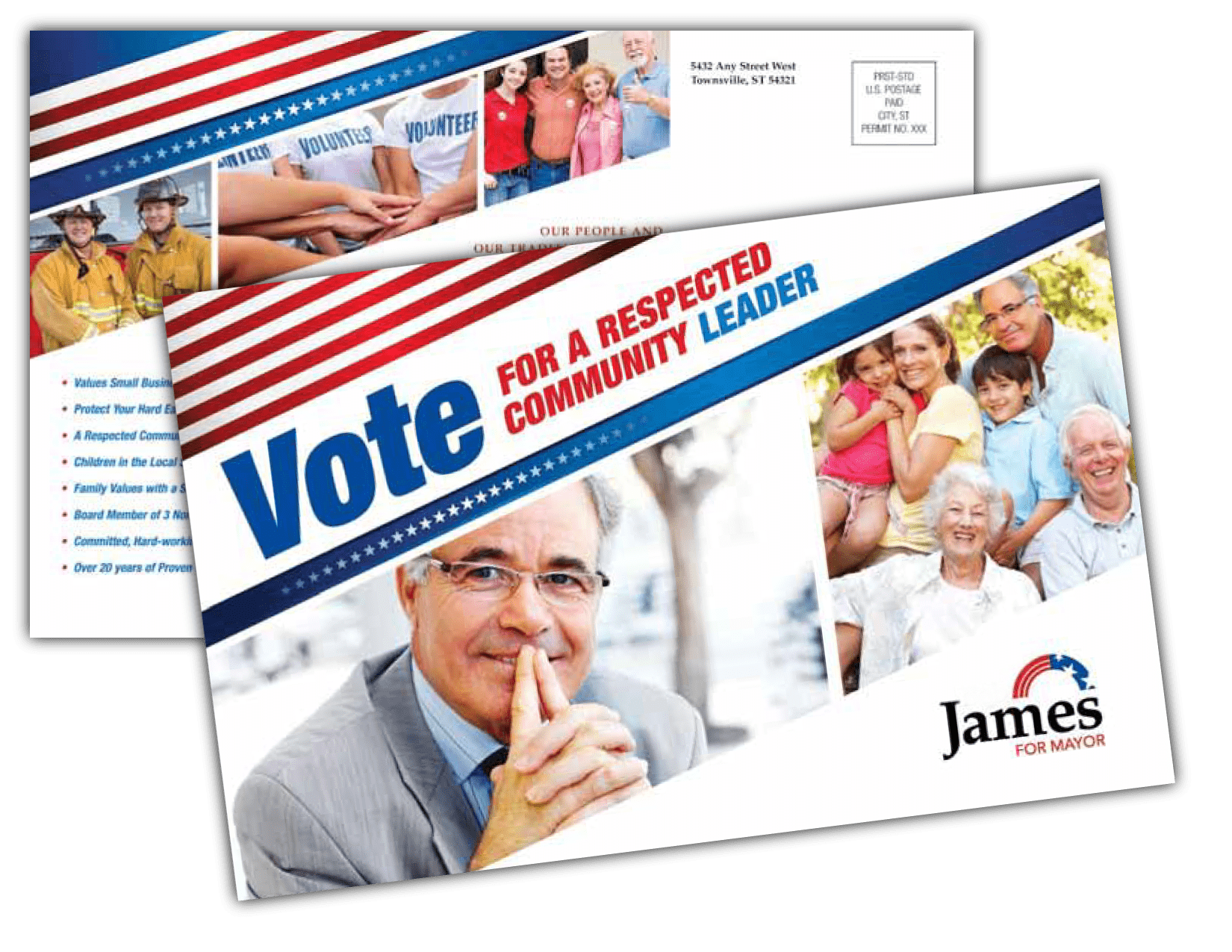 Political Direct Mail Campaign Sample
2014
Formerly known as Kurzenknabe Press and founded in 1893, K-Press was acquired as part of The Anstadt Company portfolio in November of 2014. The K-Press brand focuses specifically on political marketing campaigns, political action committees and elections, along with greater labor union-focused marketing and communications initiatives.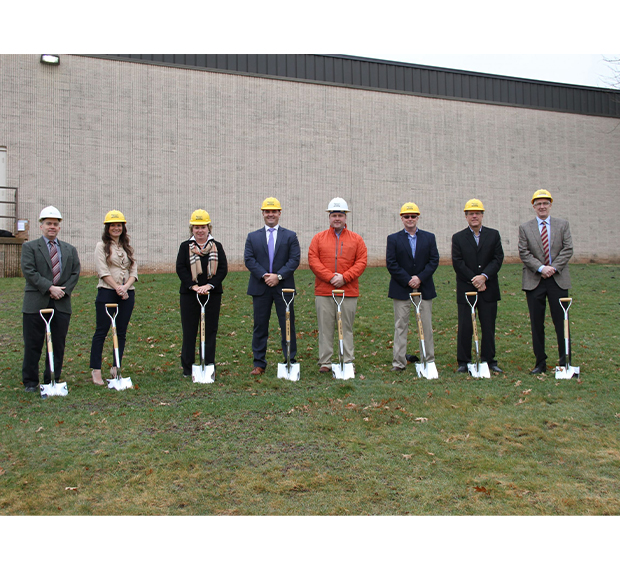 Matt and Jennifer Doran and team breaking ground.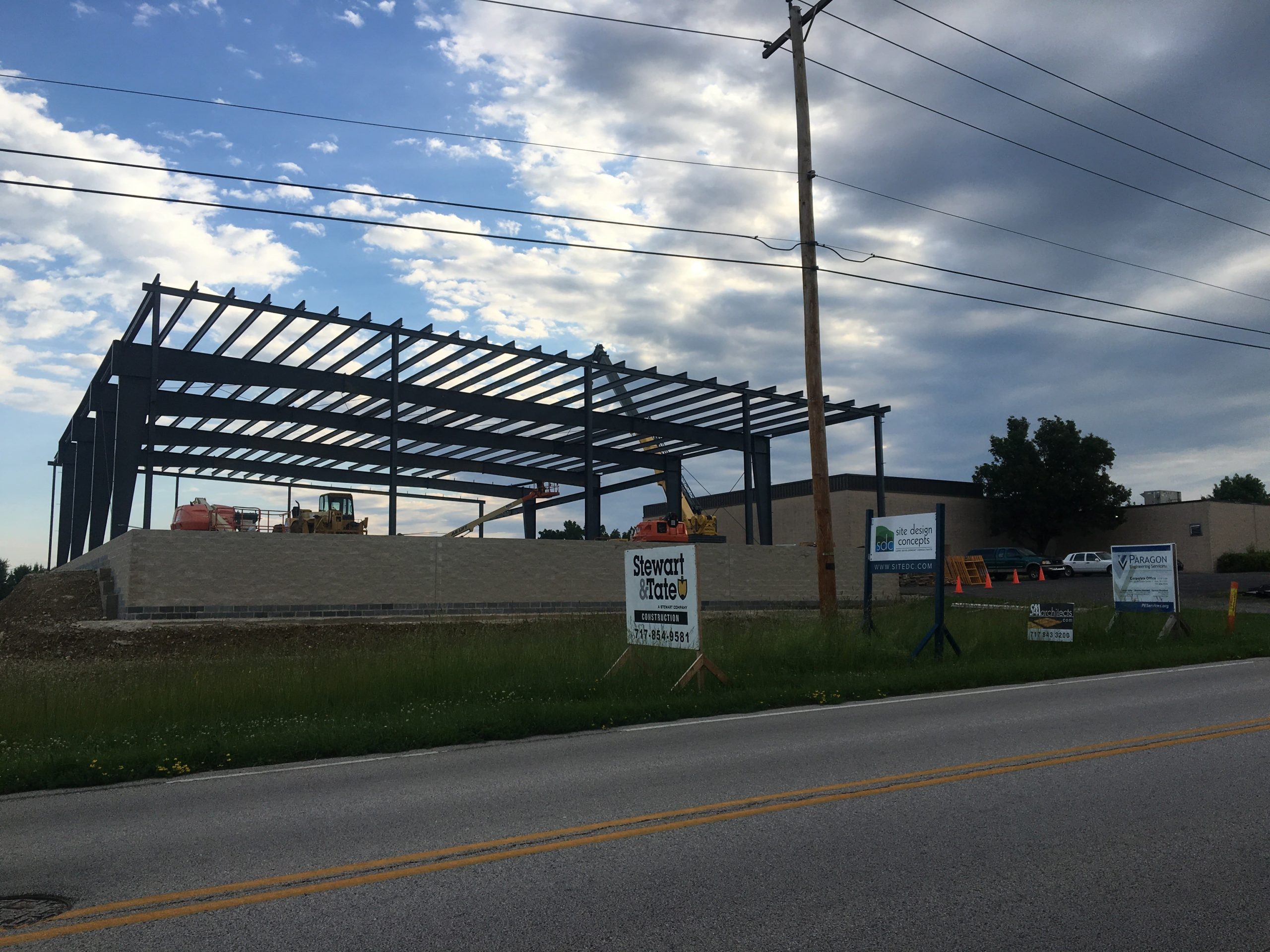 Expansion Progress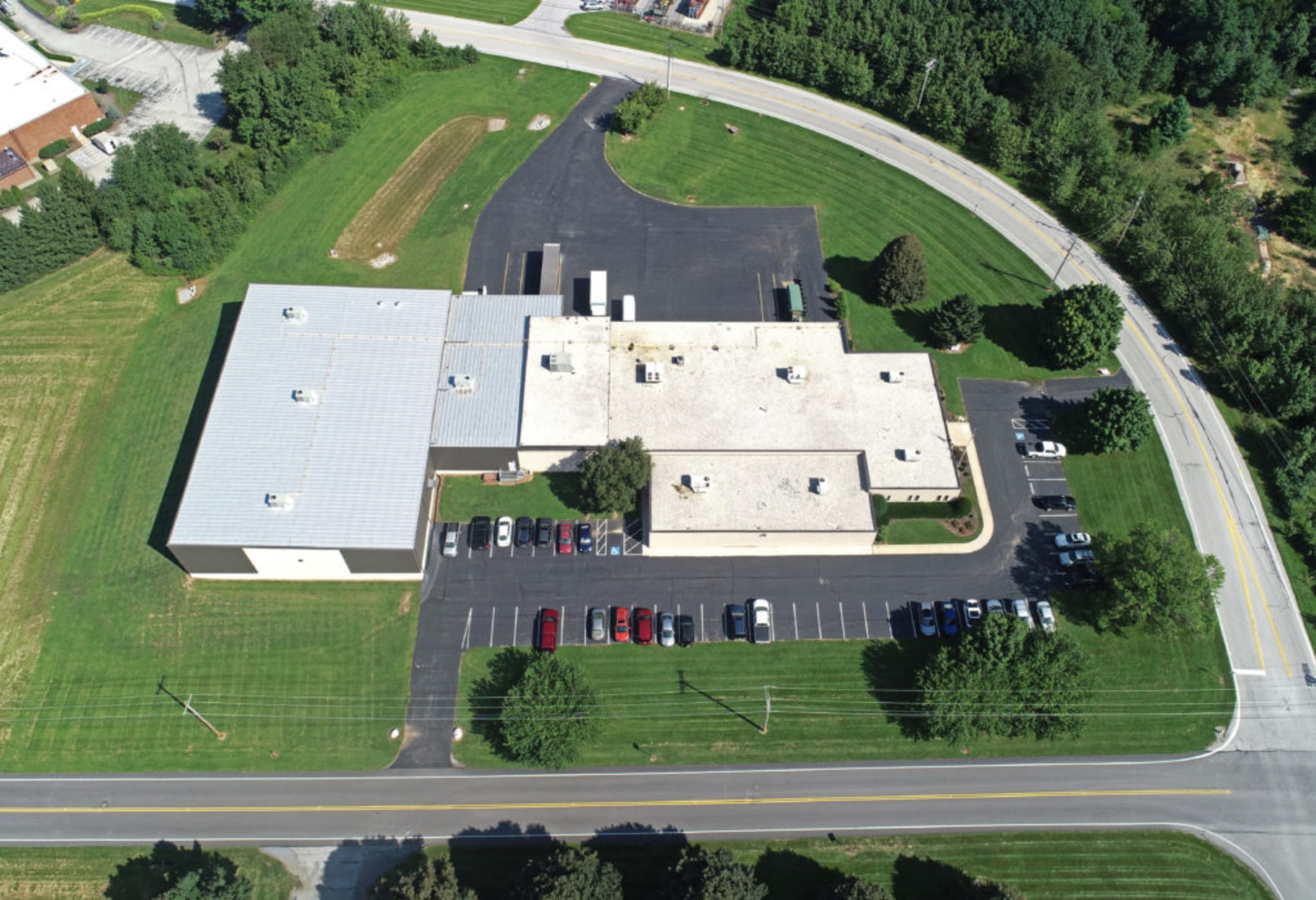 An aerial view of the complete, 50,000-square-foot expansion project.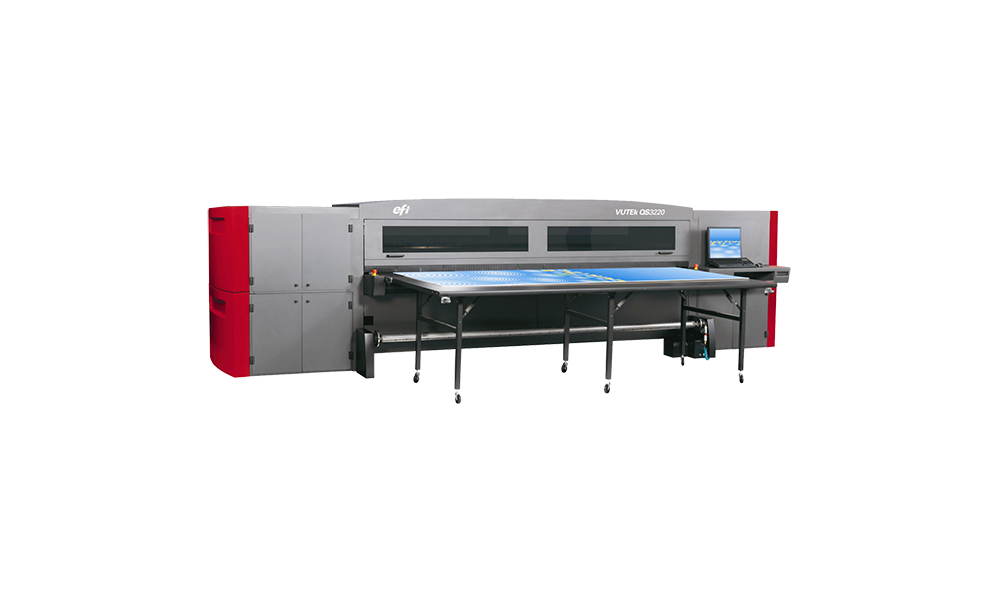 2016
A 50,000-square-foot expansion to our 3300 Farmtrail Road facility (built in 1986) took place to support ongoing growth efforts driven by acquisitions, and the addition of new services and technology, including in-house mailing, fulfillment and distribution operations, creative design services and super wide format capabilities.
The addition of our VuTek GS3250x Pro super wide format press further differentiated our already highly-diversified portfolio of print technology.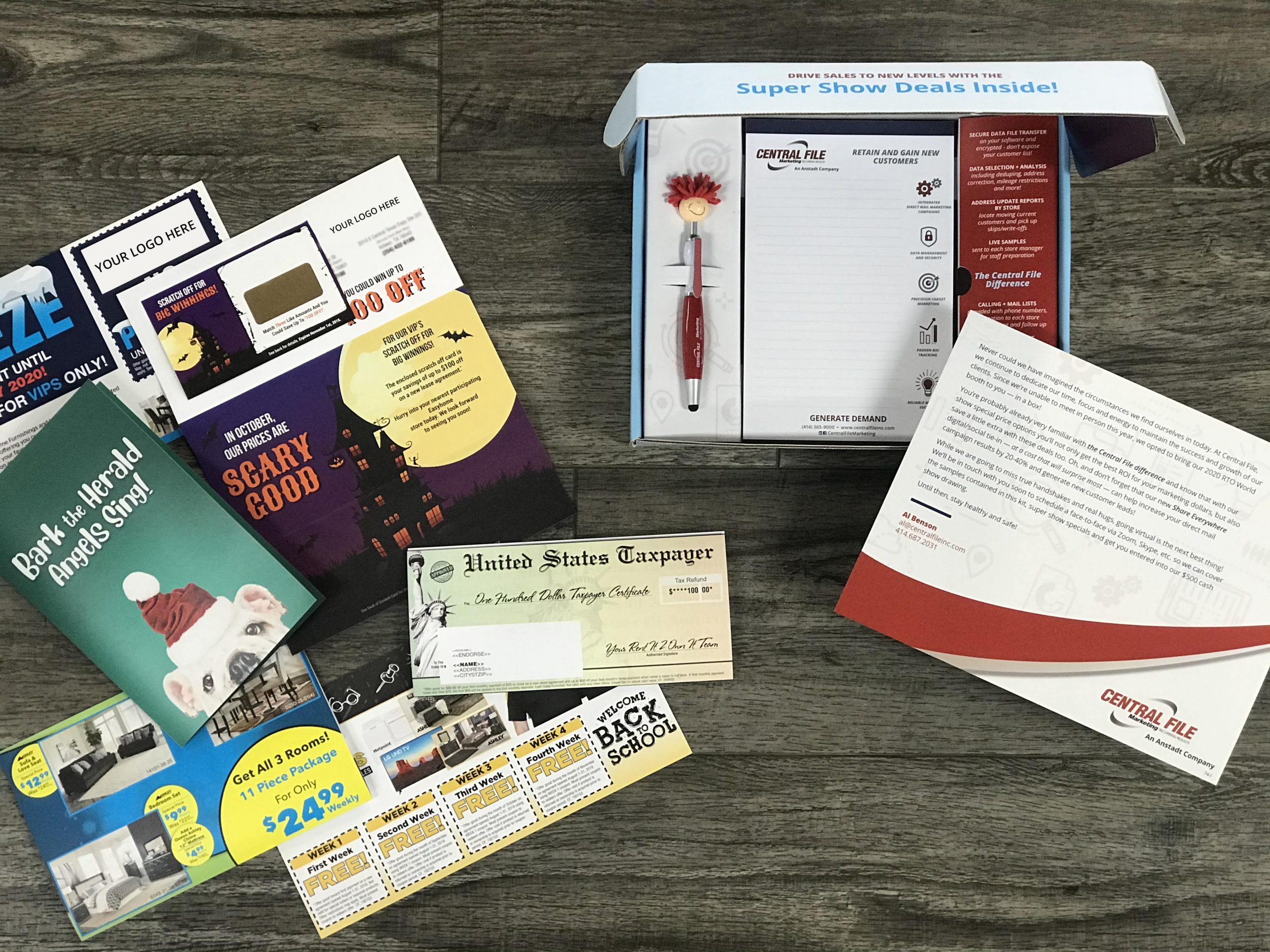 A Central File Marketing customer promotions and samples kit.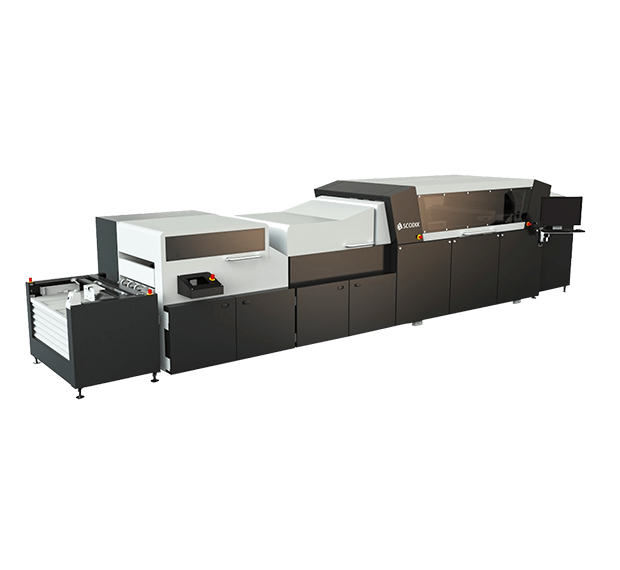 Scodix Print Enhancement Technology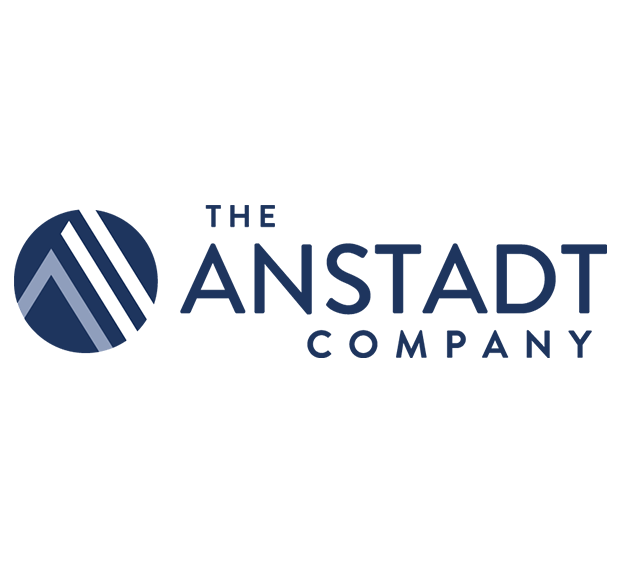 2017 Logo
2017
The acquisition of Central File Marketing, Inc., an integrated, data-driven direct mail marketing and promotions company, firmly established us within the franchise marketing sector. Central File brought with it a talented team of target market researchers and direct mail specialists with 30+ years of inside franchise knowledge that deliver proven customer retention programs with the highest possible ROI.
2017 also brought our Scodix Print Enhancement Technology — the 4th installation of its kind in North America — to the production floor. No longer necessary to create printing plates, the Scodix paved the way for inline digital foils and variable density textures. Now one of the most utilized machines on our floor, this hot commodity allows us to remain ahead of our competitors by leaps and bounds with cutting-edge marketing innovation and building brand equity in ways never before seen.
Continued acquisitions and expansion of products and services led to a shift in brand and back to our 1878 roots. Through market research and deep-rooted understanding of legacy impact, it became clear that reverting back to The Anstadt Company would best position us for the future and longevity.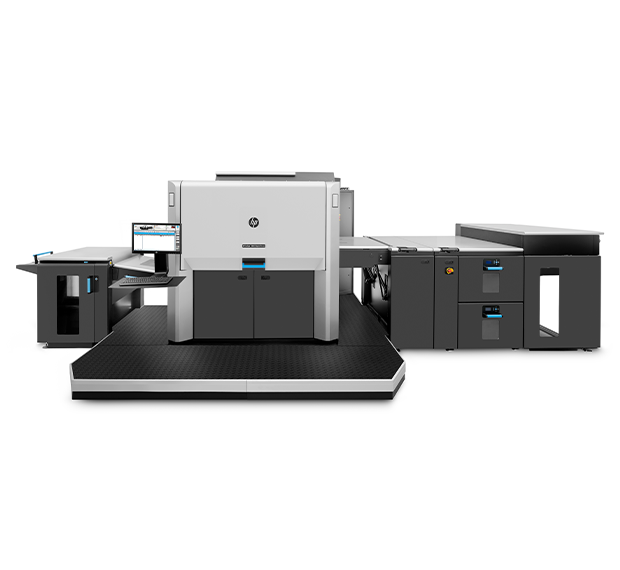 HP Indigo 12000 Digital Press
2018
Added the HP Indigo 12000 7-color digital press, bringing with it the largest digital press sheet size available in today's marketplace.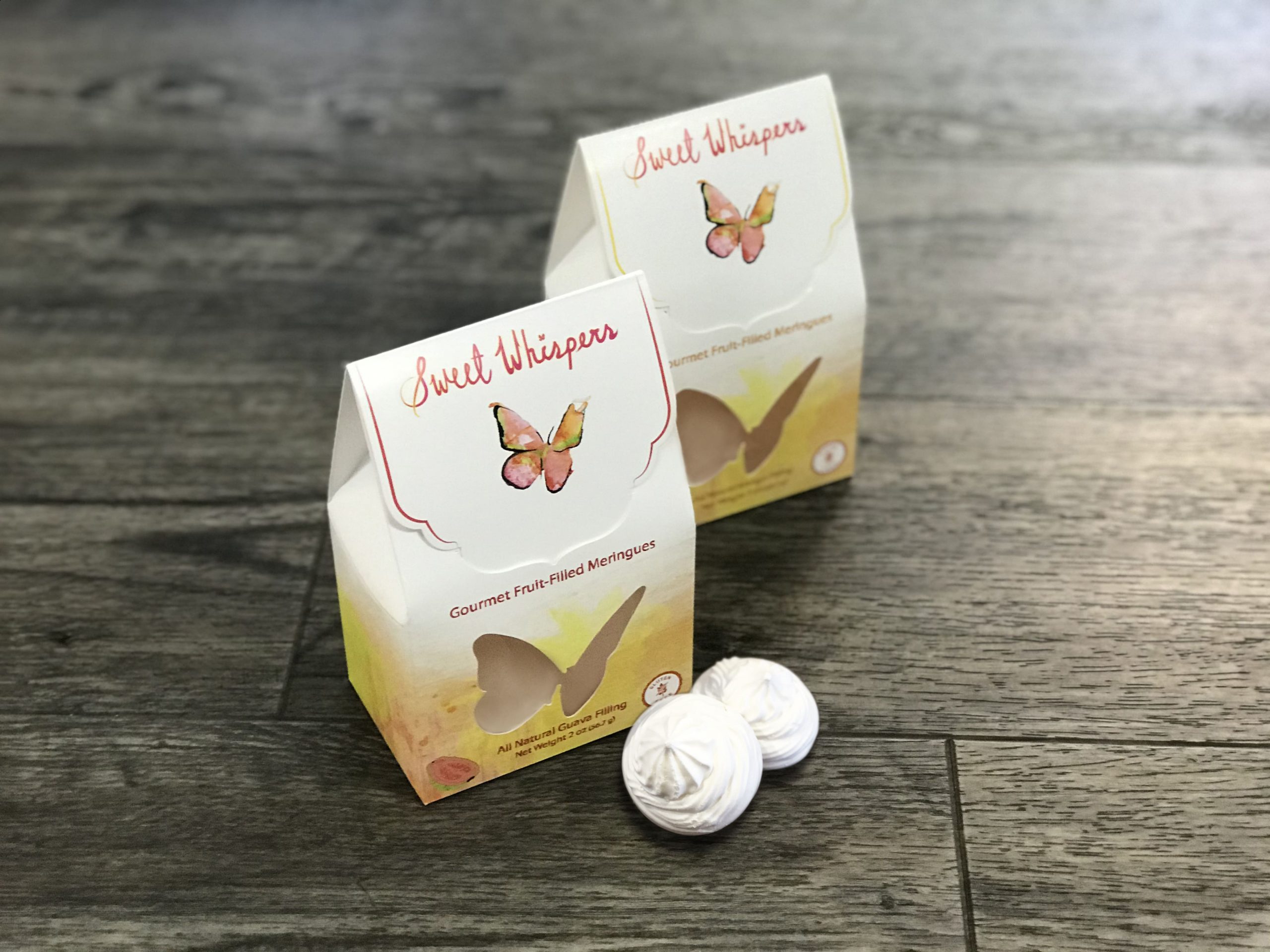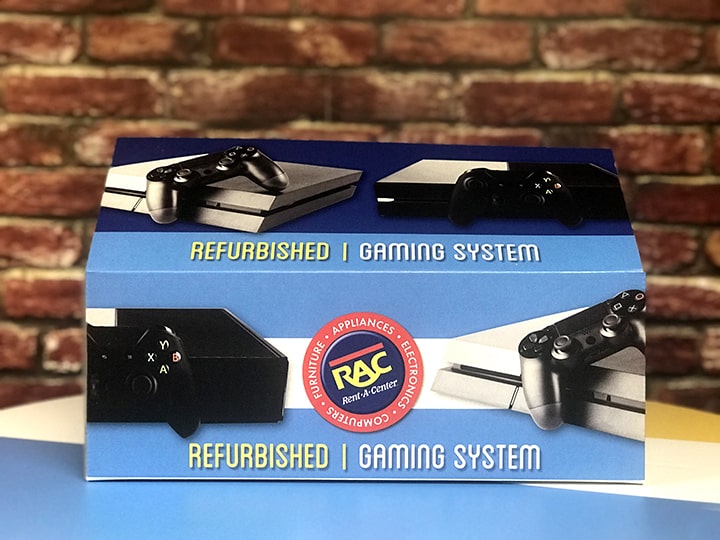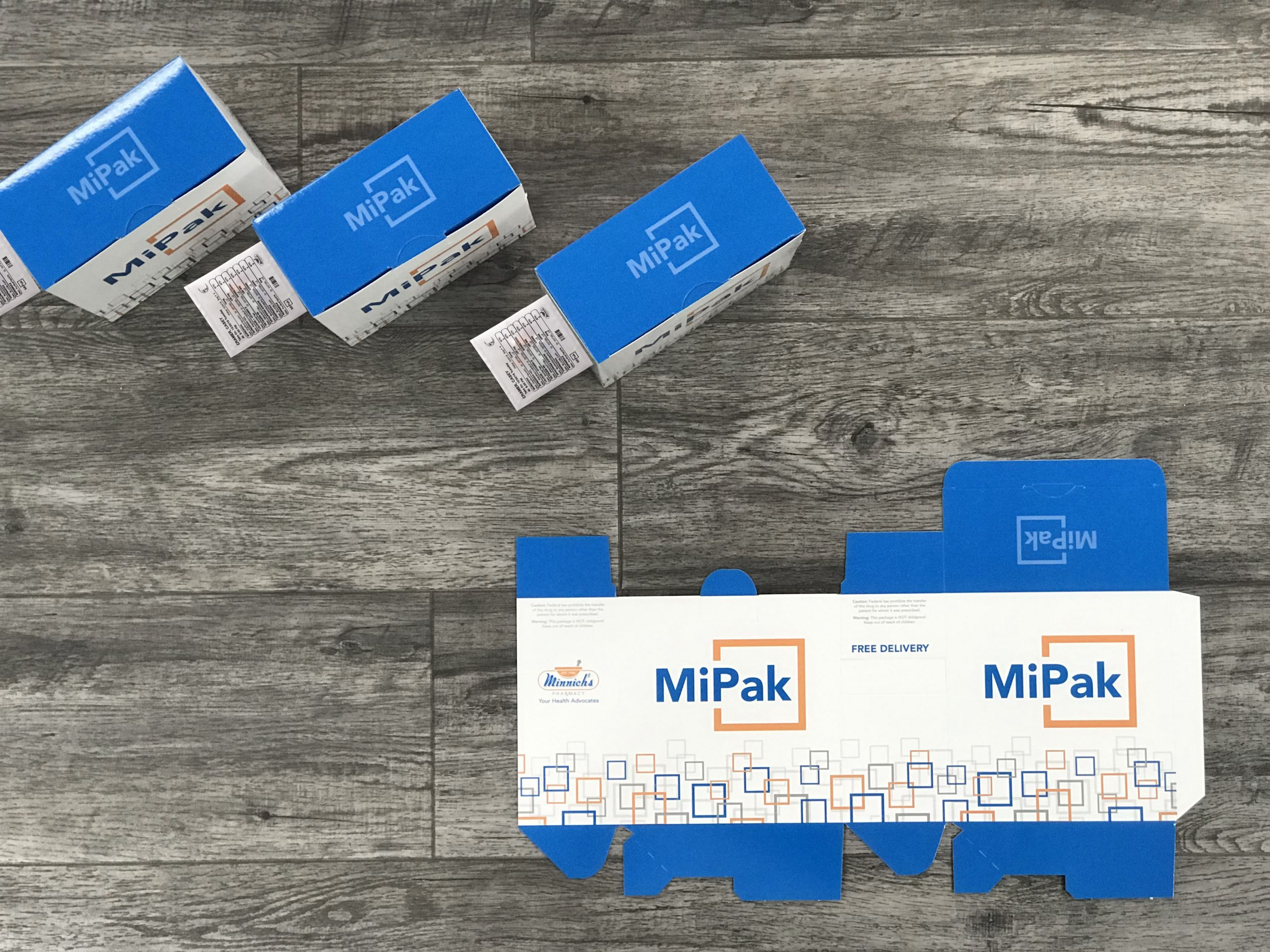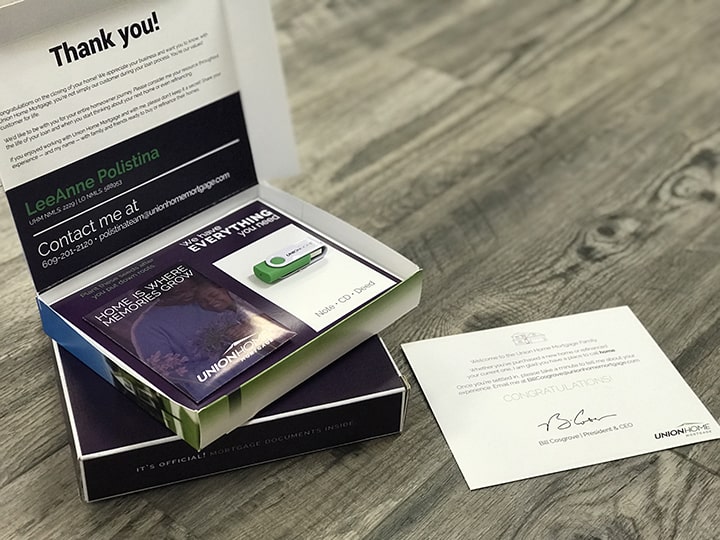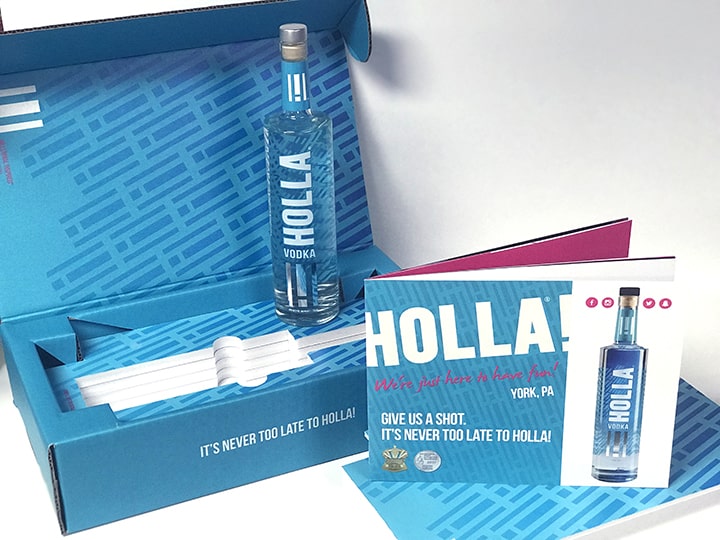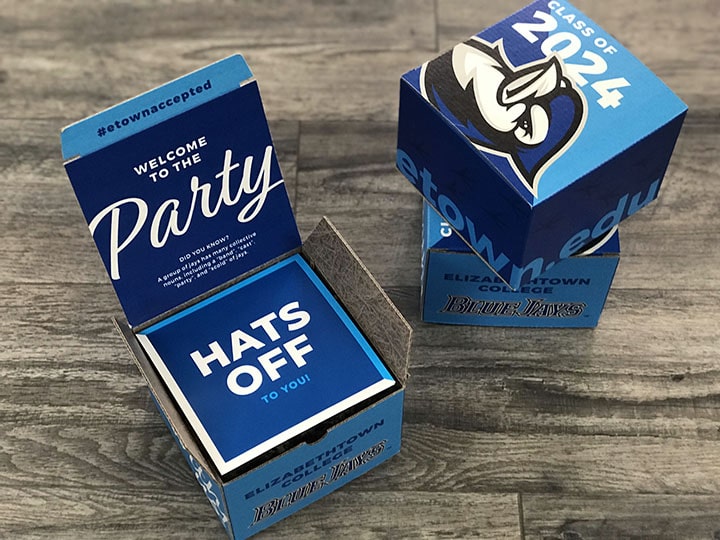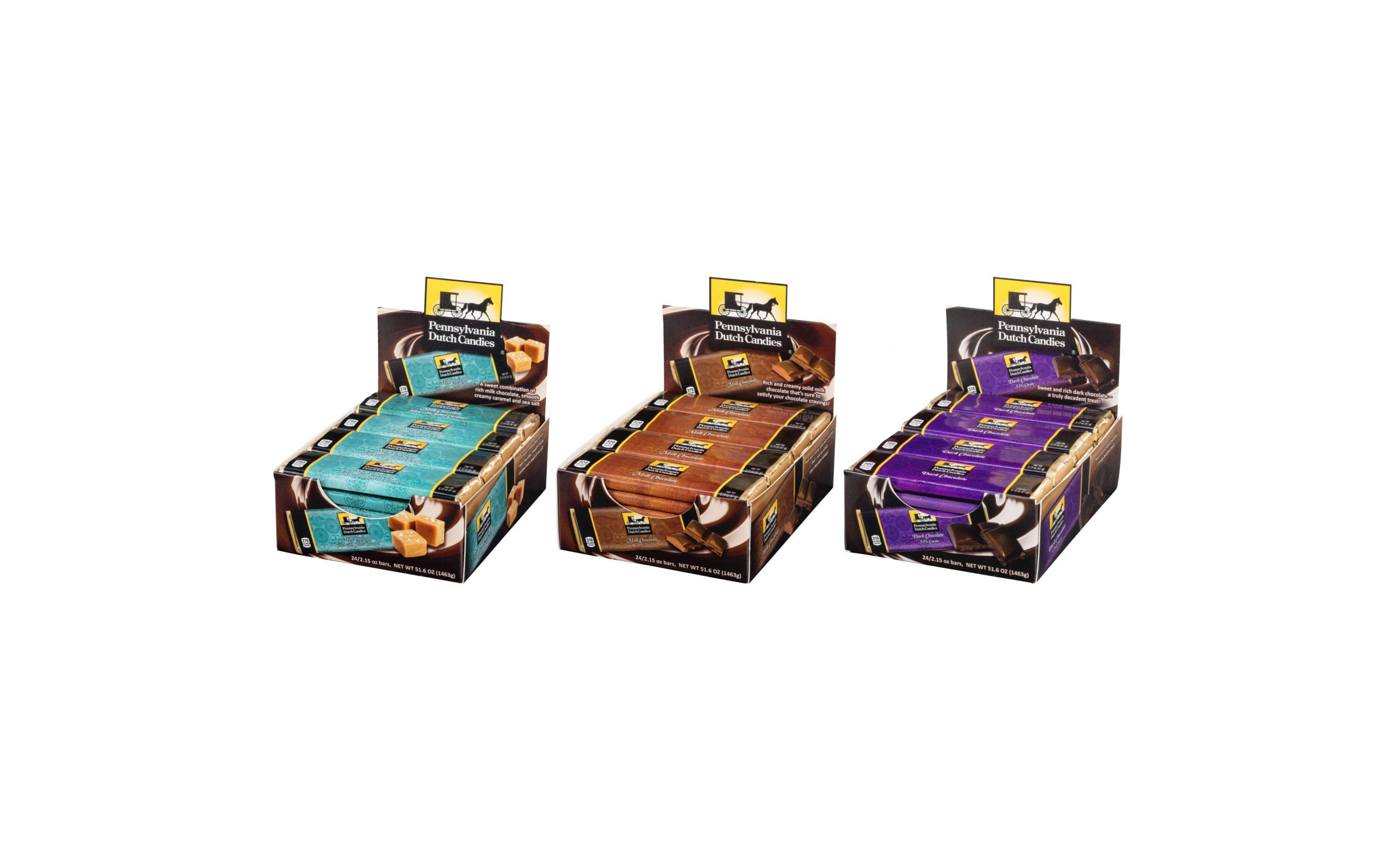 2020
Acquired certain assets of Triangle Printing & Packaging, which ushered us into a full-scale movement of offering both large-scale and short-run packaging solutions as a core product offering.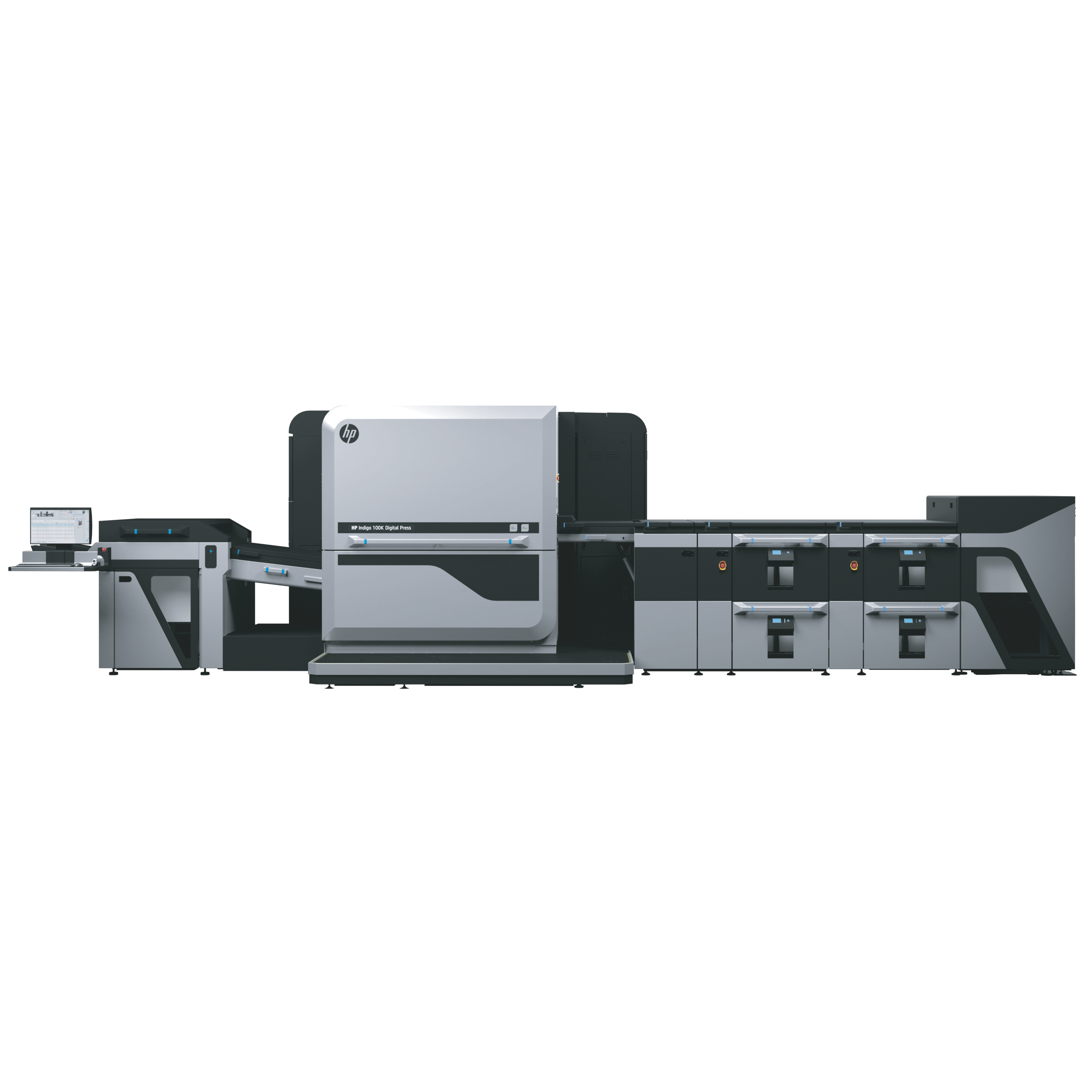 2022
Added the HP Indigo 100K press with an Automatic Pallet Replacement (APR) upgrade unit – the 2nd install of its kind in the U.S. – which enables true nonstop digital print capabilities.