Give Customers A Powerful Packaging Experience
Give Customers A Powerful Packaging Experience
Custom promotional packaging is all about creating a positive first impression and plays a vital role in telling a brand's story. It helps increase brand awareness and the likelihood of creating a unique customer experience that leaves a lasting impression, drives new purchases and reinforces customer loyalty.
In today's marketplace, it's essential to find packaging that stands out. Our goal is to help you engage your customers with highly innovative custom packaging for memorable brand unboxing experiences. From consumer packaging and product launch kits to gift boxes and welcome kits, we have packaging and folding carton solutions to suit your every need.
Contact Us
What Our Clients Say
We were blown away by the awesome job that the entire team at Anstadt did with our project. We have received great feedback from our clients, especially with how the packaging stood out from the rest of our competitors.
— Yazoo Mills
In the past, I utilized several printers for our marketing materials and you really get what you pay for. Some of the "cheaper" printers have provided me materials that have been unacceptable in quality and consistency, which ultimately damages our brand integrity. Anstadt has always delivered remarkable, consistent quality and their service is better than any printer I have dealt with in the past few years. I highly-highly recommend them.
— Business Development Manager, Transportation Industry
Cutting-Edge Retail Packaging
Our creative design services team is well-versed in crafting award-winning, creative designs that audiences remember, promoting greater brand awareness for your business. 
Some of the many packaging solutions we offer include:
Folding Carton

Straight Tuck

Retail Packaging

Rigid Boxes

Sleeve Packaging

Influencer Kits

Media + Press Kits

Product Launch Kits

Welcome Kits

Gift Boxes

Promotional Packaging
Our team uses various techniques, innovations, and print effects to create distinctive packaging.
High-speed, six- and seven-color presses with inline aqueous coating for enhanced color control and protection.

Digital print opportunities for increased speed to market and super-wide format technology for printing on nearly any substrate.
Scodix Print Enhancement Technology to produce foils, variable data foils and variable density textures for highly interactive finishes that encourage touch and create lasting brand impressions.
We also have the scale and in-house resources necessary for your consumer packaging mailing, fulfillment and distribution needs. You can trust us to deliver solutions on time and within your budget.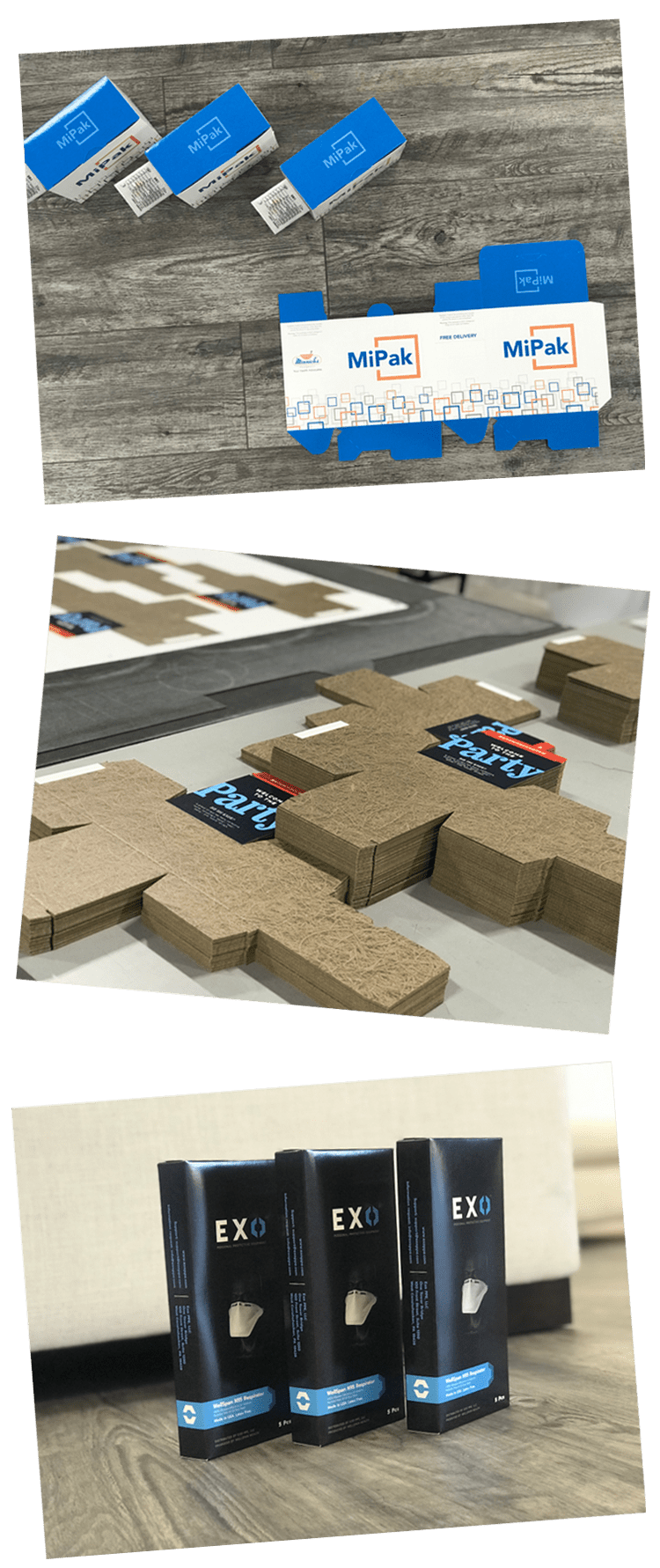 Test Your Ideas with Prototyping
Test Your Ideas with Prototyping
Do you have ideas, but don't know how to make them happen?
Not sure if the gold foil or silver foil will be more effective?
Need to split test your packaging options to see which option resonates best with your audience?
How do you know which texture density level will make your design shine?
Just can't determine where to start?
If you have an idea that you're not sure how to execute, we're always up for the challenge!
Our prototyping capabilities are ideal for streamlining the stakeholder approval process and supporting pitches with final-form models without the risk of unproven full-scale printing.
With a range of techniques to test ideas, quick-to-market digital innovation at our fingertips and a full-service creative design services team, we're able to draw up mechanicals and test your deliverables prior to a full print run and — most importantly — before you go full speed to market.
Watch your ideas come to life, obtain real-life product samples at a lower overall cost and feel confident about your marketing initiatives!