Seasonal Personalized Membership Mailings
Unique 9" x 9," six-page brochures
100C satin using complete digital print
technology and innovation
3 different versions based on membership tiers
2019 HP Inkspiration Award Finalist
2019 Graphic Arts Association — Neographics Best of Category Award, Campaigns

Enhancing Membership Experience
We worked closely with the Baltimore Orioles marketing, ticketing and design teams to develop and bring to market print assets for a highly-personalized membership mailing. Full variable personalization included member information such as name, section from previous year and row and seat data, along with variable account rep and contact information. Smart use of our innovative Scodix Print Enhancement Technology to create variable density textures and digital foil applications allowed for impactful visual and touch sensory responses.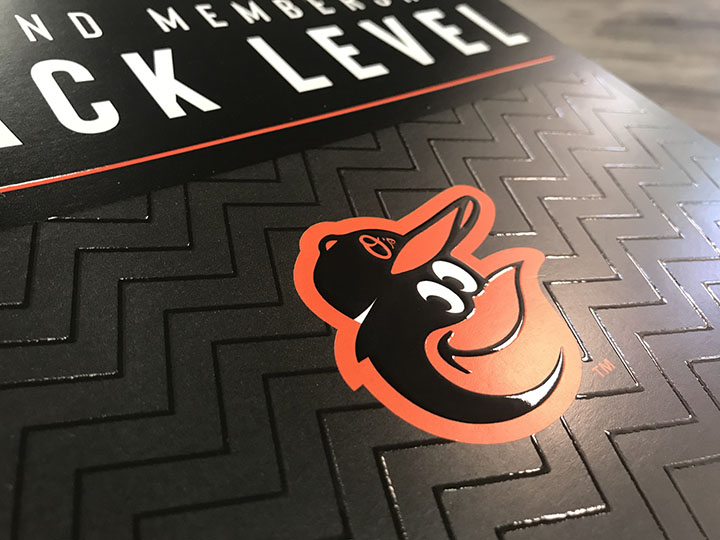 WHAT OUR CLIENTS SAY
"

We are very pleased with the end product and are looking forward to working on this again in 2020.

"

—JASON SNAPKOSKI , DIRECTOR OF ADVERTISING BALTIMORE ORIOLES
Awards
2019
Neographics
Best of Category, Campaigns
Smart use of variable data and premium design elements — like digital foils and variable density textures — help remind lifelong season ticket holders how truly iconic Camden Yards is. By personalizing each brochure and emulating an outfield pattern texture in an eye catching ,but subtle way, we aimed to highlight how much a rich winning baseball tradition truly means to the city of Baltimore.
2019
HP Inkspiration Awards
Finalist
The pieces utilized the value of the HP Indigo 12,000's largest digital press sheet size available in today's marketplace, personalized digital print and revolutionary Scodix Print Enhancement technology capabilities. Scodix effects included multiple impacts from variable density spot coatings to sculpted foil and foil on foil; all digitally applied.