Distribute Your Marketing Materials with Ease
Distribute Your Marketing Materials with Ease
We get your marketing and print solutions into your customers' hands in the fastest, safest and most efficient way possible with in-house printing, warehousing, data management and processing, and mailing, fulfillment and distribution services. We are focused on making it as easy as possible for you when it comes to the distribution component of the demand chain. With our dedicated employees, we do whatever it takes to complete your project(s) and ensure that your materials make it where they need to be without complications or delays.
Contact Us
We Make Mailing + Distribution Easy.
We have the scale, tools and technology needed to elevate your marketing and print initiatives affordably and efficiently. When you entrust your projects to us, we'll see them through from start to finish guaranteed.
Mailing

We handle everything from postcards to inkjet and in-line labeling to specialty mailing and more to accelerate your information to market and reduce days lost revenue.

As a USPS full-service provider, we know how to optimize your materials for shipping while maximizing related postal discounts – which equals big savings for you!

We securely and precisely manage your shipping data, and hold ourselves to the highest standards, ensuring your customer information is protected with a comprehensive security system that meets Department of Defense standards. 

Learn about our Integrated Direct Mail Marketing and comprehensive Data Expertise and Security services. 
Fulfillment

We have expertise in custom kitting, pick and pack, hand assembly and warehousing for managing all of your shipping needs efficiently. While competitors often send their fulfillment out to third party vendors, we have the scale and capability to finish your projects in house regardless of complexity. This gives us the advantage to manage quality and speed, giving you the ability to win all of your marketing races. 
Distribution

From freight carriers, USPS, UPS and FedEx to our very own trucks, we have the shipping ability to reach both nationwide and global markets. Just let us know when and where you need your branded materials and we can get them from here to there.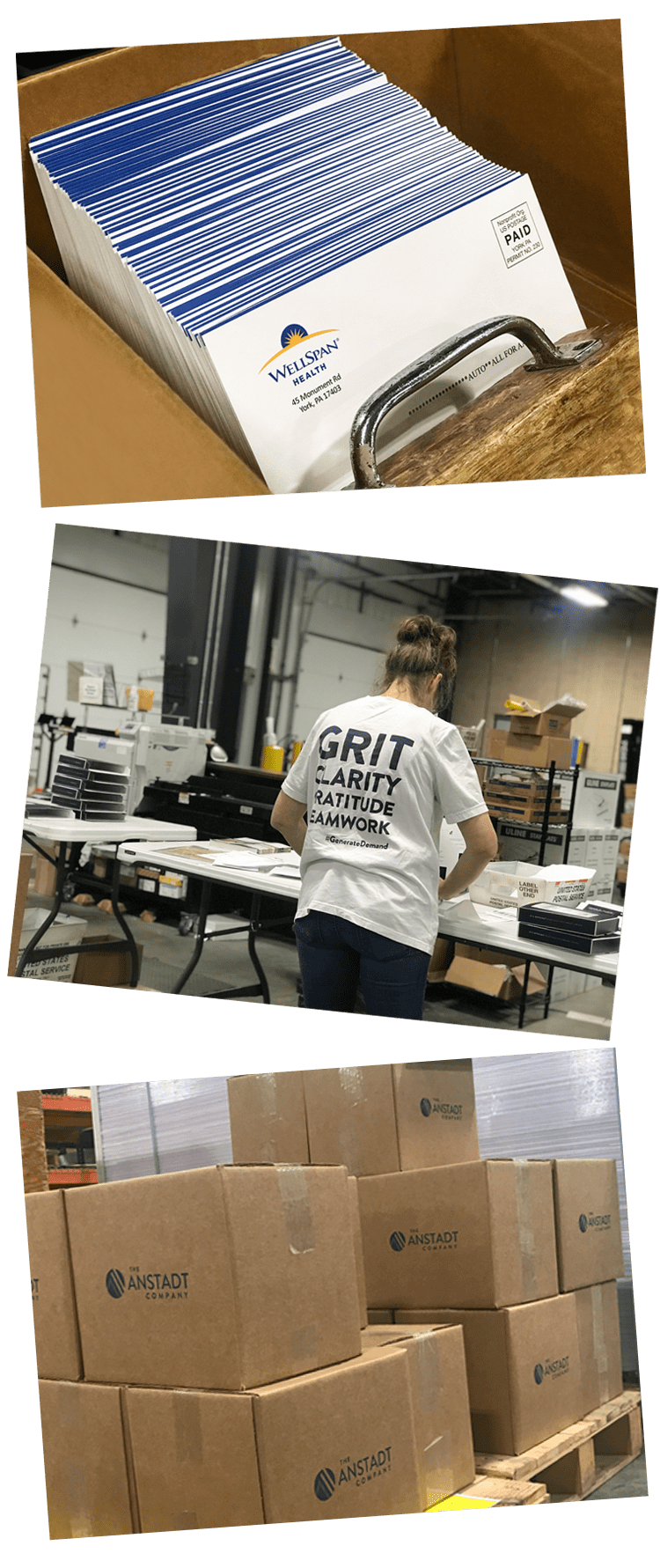 Digital Brand Asset Management
Centrally manage your marketing assets — from organization and customization to ordering and production — and distribute nationwide!
With an easy-to-use online platform and 24/7 access, you can easily…
Print on demand and increase speed to market

Access critical data for brand management

Receive reports about your orders

Manage users and their ordering capabilities through a custom-branded interface

Allow and set limits for user customization of branded elements

Create approvals for orders before submission

Control cost