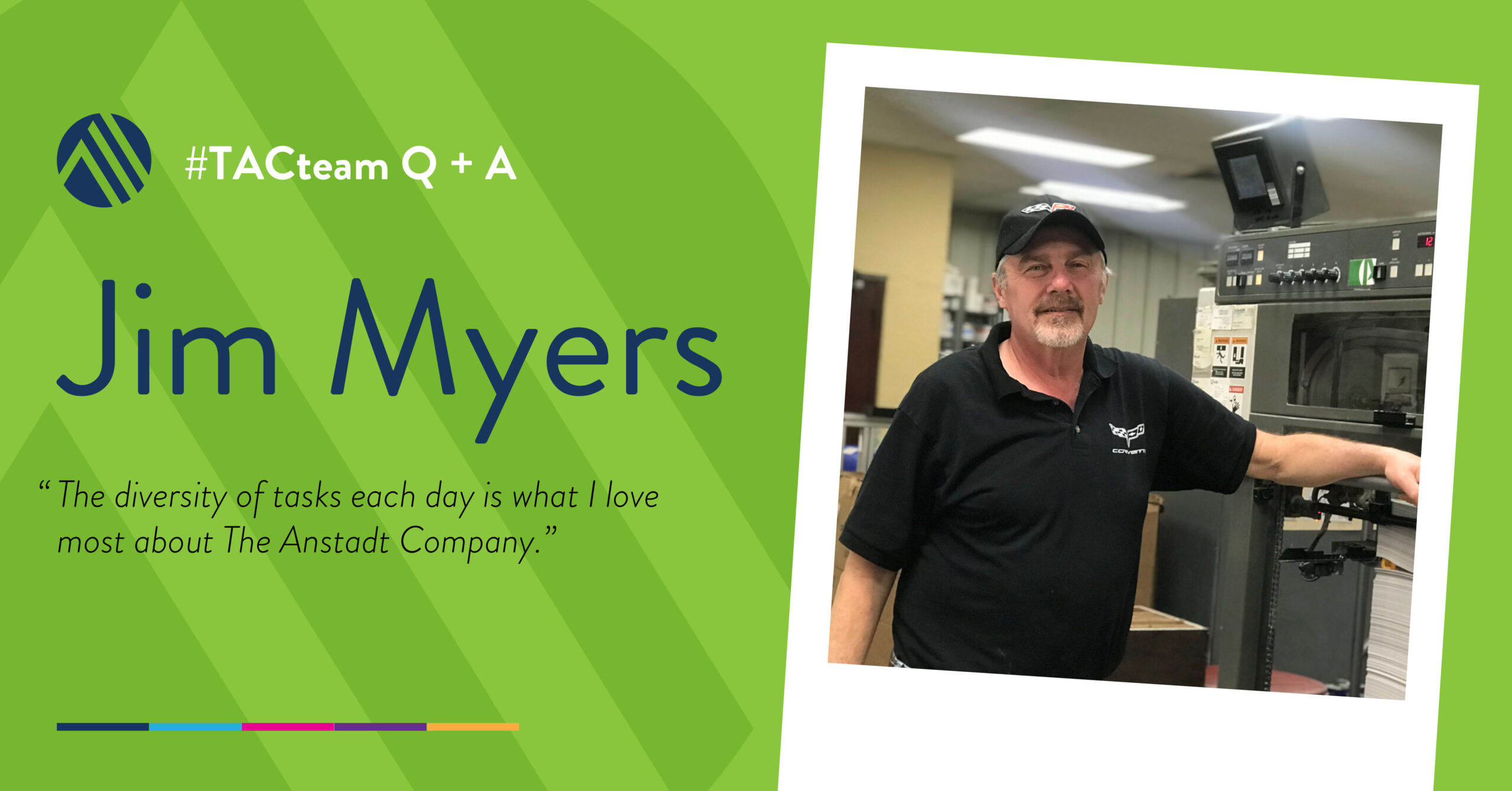 We're more than just print. We're a dynamic team of dedicated customer service and sales experts, creative thinkers and print solutions gurus striving every day to help you generate demand for your brands, products and services. We're 140+ years strong and that's because of our people.
So, without further ado let's all take a moment to recognize and celebrate Jim Myers!
Jim has dedicated 43 years to The Anstadt Company and to keeping your brand and color in check. As 2nd Shift Lead Offset Pressman, his unwavering dedication and commitment to the #TACteam family makes him a highly valued and respected leader. Read more about Jim below!
How did you get started in the industry?
Good ole' fashioned word of mouth! A good friend said there was an entry level position available at The Anstadt Company and I applied.
What do you enjoy most about working at The Anstadt Company?
The diversity of tasks and jobs each day is what I love most about working at The Anstadt Company. No two days – or jobs – are alike!
What is the secret to your 44 years of dedication and commitment to The Anstadt Company?
Work hard. Learn the value of a job well done.
What do you do in your spare time?
I restore antique "muscle" cars — Camaros, Mustangs, Ford trucks and the like. I have a fully restored Model T too. Over the years, I have probably restored about 20. My favorite is a '68 Mustang that I restored with my two boys when they were young. We bought it for $2k and now, with restorations, it's worth close to $20k or $30k!
Do you have a hidden talent?
Not many people know that I am a self-taught bass guitar player and singer. It all started in high school where I joined a band called "Banshee." I played with them for 20 years. In '97 I joined BT + The Cruisers as lead singer. We played all over – York, Lancaster, Harrisburg, Pittsburgh, Philly and even in Maryland. I'm "retired" now and focus on restoring my cars.
What's your favorite PMS color?
Without a doubt, PMS 321C!
—–
Founded in 1878, The Anstadt Company is a 5th generation, family-owned marketing execution and print solutions company uniquely positioned to help you #GenerateDemand for your brands, products and services.