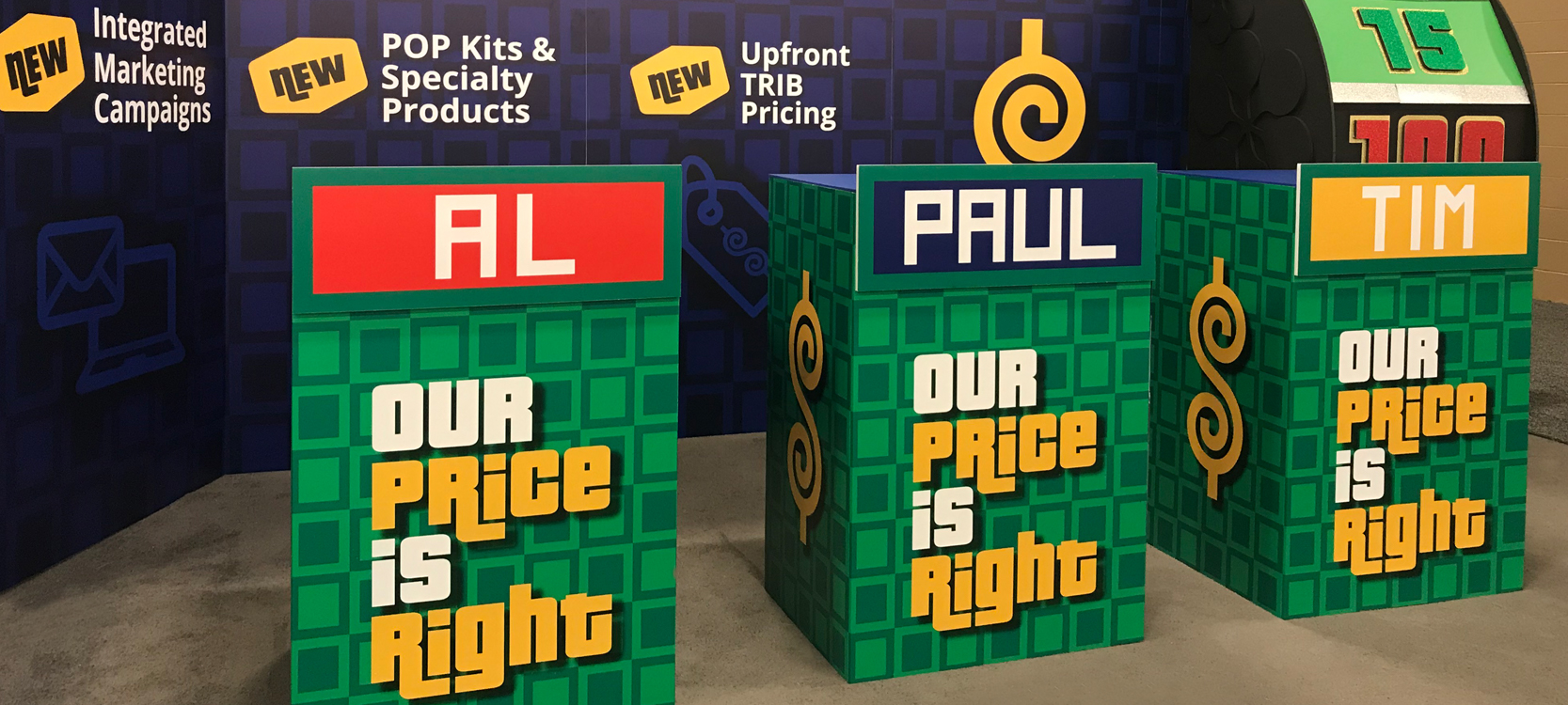 If you run a business, you're likely familiar with trade shows. These marketing events are excellent spaces for sharing your brand's story and generating leads. Trade show marketing collateral refers to the materials you bring to these shows to share information about your business. These materials are more informative than traditional advertisements, and they help build your brand equity and company's authority.
As marketing trends change, it's valuable to your business to keep up with new collateral ideas.
Common Trade Show Collateral Examples
At a trade show, many collateral types have become a standard for sharing information about companies. These traditional print marketing materials aim to draw attention to your booth, keep your brand in people's minds and encourage attendees to contact you after the show is over. Examples include:
Business cards: As one of the most common marketing materials, business cards are among the easiest ways to share your business and contact information.
Brochures: It's typical to see brochures on display at a trade show because they can describe a company's products or services in brief.
Banners and signage: These marketing materials bring people to your booth, from large banners above your booth to signage posted around the venue.
Flyers: Businesses often distribute flyers throughout a venue to spread the word about their company and direct people to their booths.
Pre-show mailers: Prior to a show, businesses will mail postcards to their most loyal customers to encourage more visitors to their stands.

How Marketing Collateral Materials Will Change in 2022
While traditional marketing collateral has paved the way for lead generation at trade shows, times are changing. In our tech-driven world, print materials are being combined with a variety of other mediums to create fully interactive experiences. New trade show interactive print marketing opportunities to make note of include:
Interactive features: From location-based mobile and motion-sensor games to virtual reality experiences, giveaways, built-in touchscreens and highly interactive print features, the sky is the limit on what you can do to gain popularity on the show floor and increase visits to your booth.
Blogs: Creating a blog for your business is a way to build authority with your client base and spread helpful information about your industry.
Case studies: Case studies share in-depth client experiences with your product or service. This collateral, along with client testimonials, can help establish your brand's value.
Social media: Platforms like Twitter, Facebook and Instagram allow you to share digital flyers, keep clients updated on new products and create a loyal audience.
E-books and magazines: Developed companies count on e-books, white papers and magazines to continue sharing their stories. While these materials can share industry information, product releases and trade show dates, they also use colors and designs people can associate with your brand.
Videos: Along with asking your audience to read about your business, you can tell your brand's story through videos. Whether they're educational or promotional, they'll spread company awareness.
QR codes: A true marker of modern marketing collateral is blending traditional techniques with digital platforms. QR codes bridge the gap by making it easy for customers to view online content from a business card, brochure or flyer.
Augmented Reality (AR): AR generates higher dwell times and memory response (than non-AR experiences) which adds significant branding benefits across the board. QR codes are often used as "gateways" to AR experiences – eliminating the need for apps — and providing easy access to enhanced brand marketing experiences for most smartphone users.
The Importance of Trade Show Collateral
Regardless of the type of trade show marketing collateral you use, it's valuable to your business. Trade shows on their own are an excellent way to emphasize your company within an industry. Adding marketing collateral offers myriad advantages, including:
Brand awareness: Standing at a table or booth without signage, learning materials and brand colors won't say anything about your business. Your product or service can spread brand awareness, but it doesn't work by itself. With intentional, well-designed marketing collateral, anyone who visits you will understand what you represent and keep an eye out for your company in the future.
Lead generation: Having professional marketing collateral will help you catch buyers' eyes. When a person has never seen your brand before, marketing materials share your story, values, products and services. This information can be more than enough to convince a person to buy from your business.
Return on investment (ROI): Your company puts money into your marketing materials and your presence at a trade show. Make the most of your investment by creating future buyers. Lead generation means you make money on the money you spent.
Credibility: New buyers and long-term customers want to know they're giving money to a company they can trust. Marketing materials establish your brand's story and prove that you invest in your business. When customers see your marketing collateral, they know your company is credible.

Create Collateral That Stands Out at the Next Trade Show
With the many benefits to your business, trade show marketing collateral is worth the investment. Working with a reliable printing professional can help you create stunning marketing materials that reflect your brand. With the right marketing collateral, your team can build brand awareness, generate leads and improve your ROI.
At The Anstadt Company, we offer advanced printing services and marketing collateral support for companies of all sizes. As marketing execution specialists, we're here to help you Generate Demand for your brands, products and services with the most innovative print collateral for your next event.
Our services include brochures, newsletters, business cards, social media graphics and much more. Contact us today to learn more or to request samples.
—–
Founded in 1878, The Anstadt Company is a 5th generation, family-owned marketing execution and print solutions company uniquely positioned to help you #GenerateDemand for your brands, products and services.